Hospital Building Allocation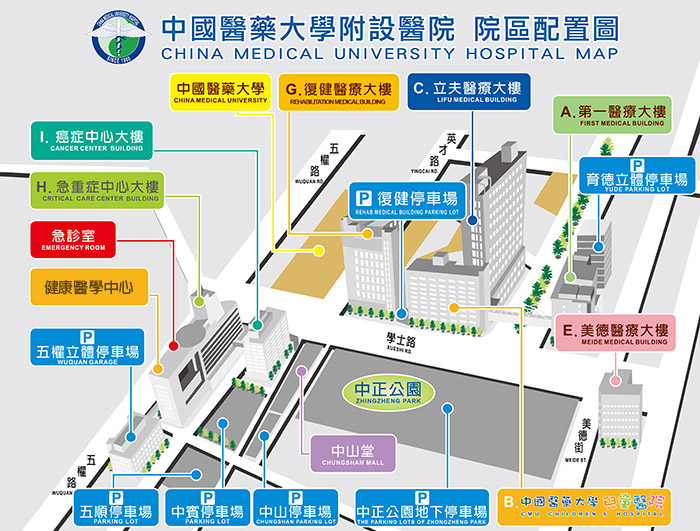 First Medical Building(A)
6F
POSTPARTUM NURSING CARE CENTER
5F
WARD
INTERNATIONAL CENTER
3F
OPERATING ROOM
BURN CENTER
2F
HYPERBARIC OXYGEN THERAPY CENTER(201)
DEPT. OF LABORATORY MEDICINE
1F
OPHTHALMOLOGY & OTORHINOLARYNGOLOGY (ENT) CLINICS (101~120)
OPHTHALMOLOGY & OTORHINOLARYNGOLOGY (ENT) EXAM. RM.
CASHIER & REGISTRATION / INFORMATION DESK

B1F
CLINICAL TRIALS CENTER
ORGHOPEDICS MOTION ANALYSIS RM.
GAMMA KNIFE SURGERY AND TREATMENT CENTER
MAGNETIC RESONANCE IMAGING UNIT
CENTER OF EXPRESSIVE ARTS THERAPY UNDERPASS
Lifu Medical Building(C)
19F
WARD
HEMODIALYSIS UNIT
13F
WARD
UROLOGY EXAMINATION ROOM
TREATMENT ROOM, COLO-RECTAL SURGERY
8F
WARD
SURGICAL INTENSIVE CARE UNIT
7F
OBS. & GYN. (DELIVERY RM.)
REPRODUCUTIVE MEDICINE CENTER
6F
OPERATING ROOM
OBS. & GYN. URODYNAMIC RM. (B98)
5F
OPERATING THEATRE AND RECOVERY ROOM
3F
OUT-PATIENT CLINICS (301~317, 320)
EXTRACORPOREAL SHOCK WAVE LITHOTRIPSY (ESWL) ROOM
RADIOLOGY DEPT. (X-RAY RM.)
X-RAY RM., CHILDREN'S HOSPITAL OF CMU
PRE-ANESTHESIA CLINIC (C56)
2F
OUT-PATIENT CLINICS (221~239, 250~260)
RHEUMATOLOGY AND IMMUNOLOGY CENTER
DIABETES EDUCATION CENTER
GERONTOLOGY CLINIC
PHARMACEUTICAL CARE CLINIC
HEALTH EDUCATION CENTER
NUTRITION COUNSELING CLINIC
RENAL CARE CENTER
LABORATORY UNIT (BLOOD COLLECTION / URINE SAMPLE GATHERING)
CHILDREN'S HOSPITAL BLOOD COLLECTION RM.
1F
ADMISSION CENTER
REFERRAL CENTER
CASHIER & REGISTRATION / INFORMATION DESK / PHARMACY/FLOWER SHOP
B1F
CARDIAC FUNCTION RM.( ECHOCARDIOGRAPHY RM./ TREADMILL ELECTROCARDIOGRAPHY RM.)
Rehab Medical Building(G)
9F
LIBRARY
MIND-BODY INTERFACE EVALUATION CENTER
8F
RESPIRATORY CARE CENTER
5F
OUT-PATIENT CLINIC, DENTAL (501~529)
3F
REHABILITATION DEPARTMENT
DENTAL DEPARTMENT
2F
OUT-PATIENT CLINIC, REHABILITATION (275~277)
1F
OUT-PATIENT CLINIC (172~182)
OBS. & GYN. EDUCATION RM.
PAPSMEAR RM.(171)
GYN. ENDOSCOPIC EXAM. RM.(178)
PRENATAL GENETICS DIAGNOSIS CENTER
AMNIOCENTESIS RM.
OBS. & GYN. ECHO RM.
REPRODUCTIVE MEDICINE CENTER COUNSELING RM.
CASHIER & REGISTRATION / INFORMATION DESK / PHARMACY/ BREASTFEEDING RM.

Children's Hospital(B)
11F
AESTHETIC MEDICAL & SURGERY CENTER
DEPARTMENT OF PATHOLOGY
10F
RESPIRATORY CARE UNIT
INTENSIVE CARE UNIT, RESPIRATORY
9F
INTENSIVE CARE UNIT, CARDIOLOGY
INTENSIVE CARE UNIT, MEDICAL
6F
PEDIATRIC HEMATO / ONCOLOGY WARD
5F
PEDIATRIC/NEONATAL INTENSIVE CARE UNIT
SICK BABY ROOM
3F
ECG RM. CARDIAC CATHETERIZATION RM.
CARDIAC IMPLANTABLE ELECTRONIC DEVICES CLINIC AND LAB. PEDIATRIC PULMONARY TESTING RM.
PEDIATRIC BRONCHOSCOPY RM.
INTERDISCIPLINARY ASSESSMENT CENTER FOR CHILDREN DEVELOPMENT.
CHILDREN COUNSELING RM.
CEREBROVASCULAR ECHO RM.
ELECTROENCEPHALOGRAPHY RM.
MENTALITY ASSESSMENT RM.
NEUROELECTROPHYSIOLOGICAL EXAM. RM.
EMG RM.

2F
PEDIATRIC ELECTROPHYSIOLOGICAL EXAM. RM.
PEDIATRIC ENDOSCOPY RM.
PEDIATRICS CLINICS (211~216)
WELL BABY CLINIC (210)
THERAPY RM. (211)
PEDIATRIC EEG RM. (1~2)
PACIFICATION RM.
HEMOPHILIA CLINIC (217)
HEMOPHILIA TREATMENT AND TRAINING CENTER
PEDIATRIC ULTRASONIC RM.
LAB. OF GENOMIC MEDICINE
BREASTFEEDING RM.
HEPATIC DISEASES CENTER
DIAGNOSTIC AND THERAPEUTIC CENTER OF ENDOSCOPY AND NOGRAPHY
CHEST DIAGNOSTIC & THERAPEUTIC UNIT (ECHO PULMONARY FUNCTION EXAM. RM.)
PEDIATRIC ECHO RM.

1F
INFORMATION
CASHIER & REGISTRATION
PHARMACY
RESTAURANT
PEDIATRICS CLINICS (121~128)
INJECTION & THERAPY RM. (133)
PARENT-CHILD COUNSELLING CENTER
PEDIATRICS COUNSELLING RM. (1~2)

Critical Care Center Building(H)
14F
INTERNATIONAL MEDICINE WARD
MUSLIM PRAYER ROOM
12-13F
INTERNATIONAL MEDICINE WARD
11F
WARD
INTENSIVE CARE UNITS (STROKE, NEUROLOGY)
EXAMINATION ROOMS (STROKE CENTER, NEUROLOGY)
REHABILITATION THERAPY RM.
5F
WARD
Outpatient Chemotherapy Unit (Room)
3F
NEURO SURGERY INTENSIVE CARE UNITS
CLINICAL TRIAL PHARMACY
HEMODIALYSIS RM. (1~2)
2F
OUT-PATIENT CLINIC (240〜248)
OPERATING THEATRE AND RECOVERY ROOM
HUMAN ORGAN BANK
INTENSIVE CARE UNIT
ANESTHESIA HUI YAO OUTPATIENT DEPT.
1F
ADMISSION CENTER
PRE-ANESTHESIA CLINIC
EMERGENCY ROOM / EMERGENCY X-RAY UNIT
INJECTION ROOM
SOCIAL SERVICE COUNSELING ROOM
CASHIER & REGISTRATION / INFORMATION DESK / PHARMACY /BREASTFEEDING ROOM
SMALL SHOPS, COFFEE SHOP
B1F
OUT-PATIENT CLINIC (011~027)
BLOOD COLLECTION STATION
EXAMINATION ROOMS (ENDOSCOPY, ULTRASOUND)
EXAMINATION ROOMS (SURGERY , CT)
DIGITAL MAMMOGRAPHY UNIT
ANGIOGRAPHY ROOM
MRI UNIT
CARDIOVASCULAR DISEASE UNIT (HEART CENTER)
SMALL SHOPS, FOOD COURT, CONVENIENCE STORES
Health Medical Center(H)
9F
HEALTH EXAMINATION CENTER
8F
HEALTH EXAMINATION CENTER(LABOR/EMPLOYMENT/VISA)
6F
HEALTH EXAMINATION CENTER
HEALTH COUNSELING
5F
HEALTH EXAMINATION CENTER
3F
GI ENDOSCOPY
CT/MRI/BONE MARROW DENSITY
1F
MRI ROOM
CELL THERAPY CENTER
Cancer Center Building(I)
6F
BODY SCIENCE & METABOLIC DISORDERS INTERNATIONAL MEDICAL CENTER
2F
OUT-PATIENT CLINIC (202~206, 281~289, 291~299)
BREASTFEEDING ROOM
CANCER RESOURCE CENTER
INTEGRATED MEDICAL CARE CLINIC
1F
OUT-PATIENT CLINIC (191~197)
CASHIER & REGISTRATION / INFORMATION DESK / PHARMACY
BLOOD COLLECTION STATION
RADIOLOGY EXAMINATION ROOM
B1F
OUT-PATIENT CLINIC (031~039)
NUCLEAR MEDICINE
EXAMINATION ROOM (POSITRON EMISSION TOMOGRAPHY, NUCLEAR MEDICINE)
VROLOGIC EXAMINATION UNIT
OBS. & GYN. ECHO RM.

B2F
OUT-PATIENT CLINIC (051~056)
TREATMENT ROOM L-3、4
Meide Medical Building(E)
8F
DAY CARE
PSYCHOLOGICAL ASSESSMENT RM. & CLINICAL PSYCHOLOGIST OFFICE
7F
SLEEP MEDICINE CENTER
CLINICAL SIMULATION WARD
6F
INTELLIGENT DIABETES METABOLISM AND EXERCISE CENTER CLINICS (611、612)
KIDNEY INSTITUTE CLINICS (613~618)
5F
PSYCHIATRIC CLINICS (561~567)
PHARMACY OF CHINESE MEDICINE
3F
OUT-PATIENT CLINICS (321~335)
EXAMINATION ROOMS
REHABILITATION THERAPY
2F
OUT-PATIENT CLINICS (261~273)
1F
OUT-PATIENT CLINICS (157, 165~168)
GUO YI TANG(100)
ASSESSMENT OF DISABILITY AND FUNCTIONING
CLINICAL NUTRITION DEP.
CASHIER & REGISTRATION / INFORMATION DESK / PHARMACY