AI-assisted interpretation of bone age and height prediction system
Skeletal morphology of human changes from infancy to adulthood with growth and development, and the characteristics of skeletal maturity are particularly obvious in hand bones. Therefore, hand bone X-ray photography is often used clinically to identify and analyze bone age.
Bone age assessment (BAAs) is an important clinical indicator for judging the degree of skeletal development in pediatrics. It is obtained by taking X-rays of the hand, and then based on the average data of children of the same age and race. Clinically, the difference between the BAA assessment results and the actual age will also be used to assess whether the subject has endocrine and metabolic related diseases, and can also be applied to patients with different limb lengths, and choose the best time to intervene with drugs and other treatments.
Professor Fuu-Jen Tsai of our hospital has said: In addition to the accumulation of experience, the traditional interpretation of bone age still needs to be compared with a heavy medical atlas to diagnose, hence the process of interpretation is relatively boring and time-consuming.
In order to speed up the complicated process of bone age assessment, CMUH AI Center, Professor Fuu-Jen Tsai from Children's Hospital and EverFortune.AI joint developed the "Bone Age AI-assisted Interpretation and Height Prediction System", which uses deep neural networks and automated image processing to assist in bone age determination. It can also predict the final height by comparing the biological age, like a senior and reliable child genetics expert to assist in interpretation.
The current system performance has been verified by clinicians: the accuracy within one-year-old is as high as 90%. The system has obtained Taiwan patent (I684997) and TFDA license, and the US FDA is applying simultaneously.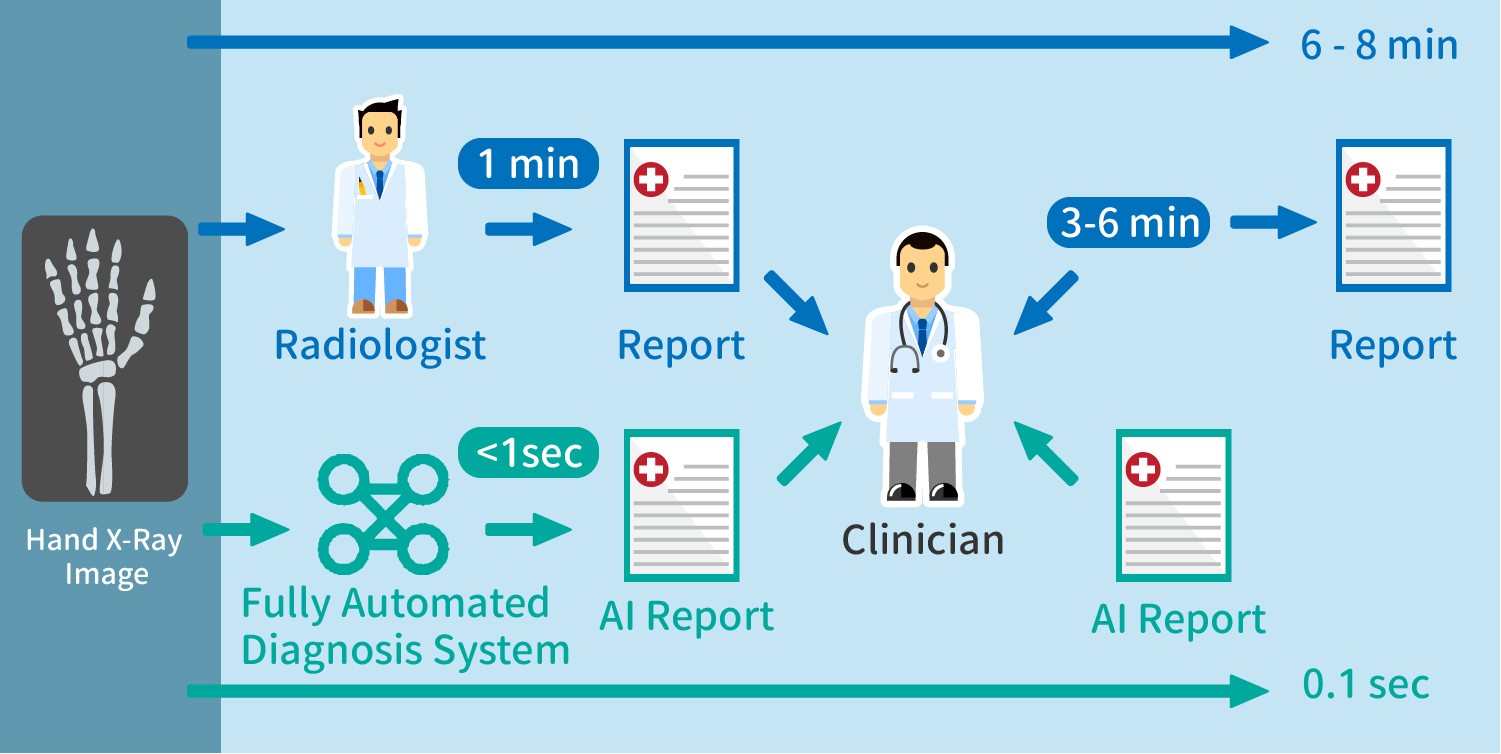 (Figure description) Comparison between AI-assisted interpretation of bone age and traditional atlas cross-reference method

(Figure description) Bone age AI button and AI reports,providing assessment value of children's bone age and height prediction
---
Achievements
Product:
"EFAI" Computer-Aided Bone Age Diagnosis System (No. 007219)