Our Speciality
Precision Medicine
Introduction
With advancements in science, the development of instruments, and the accumulation of experience, precision medicine has always been the ultimate goal for every clinician. However, due to the limitations of excellent diagnostics and of the development of therapeutic instruments, as well as expensive costs, precision medicine is not easy to be applied in every patient. The past problem was that, despite having funds, we cannot achieve precision medicine. Now, because of the invention of genomic sequencing apparatus, we can get the precise sequence of each person's genome and understand their relevance to the disease. What's more, we can assess the impact of living habits and environment on individuals through the changes in epigenetic genes. In the last two or three years, due to the advances in genomic sequencing, not only can a person's genetic sequence be completed in a very short time, but the cost required also fell to about US$1,000 and the time for the interpretation of the results also dropped from several months to a few days, leading to such epoch-making technology used in clinical application and rapidly changing clinical diagnosis and treatment. The most famous example is the use of maternal blood to test fetal chromosomal abnormalities and genetic diseases, instead of the past use of chorionic villus sampling (CVS) or amniocentesis for prenatal diagnosis, which not only is more safe, but also more accurate than the traditional test. Therefore, it is difficult to achieve precision medicine without genome sequencing or related technology.
"The simple definition of precision medicine is to use the best diagnostic results to perform the best treatment." From the point of view of clinical medicine, we now possess genome sequencing apparatus and related technology, and are entering a time when the patterns of disease treatment are determined by genomic and epigenetic differences and changes in each individual. This era will be based on a large amount of data generated by genomic sequencing machines, in combination with certain conventional tests or examinations and various materials accumulated over a long period of time, including personal life habits and environmental changes, for making the optimal diagnosis and determining the best therapy, with the aim of achieving precision medicine. Nonetheless, as the data to be used are big, regardless of genomes, epigenomes, or other data, it is not possible to process current medical data without the participation of all kinds of computer information personnel in order to reach the requirements of precision medicine.
Features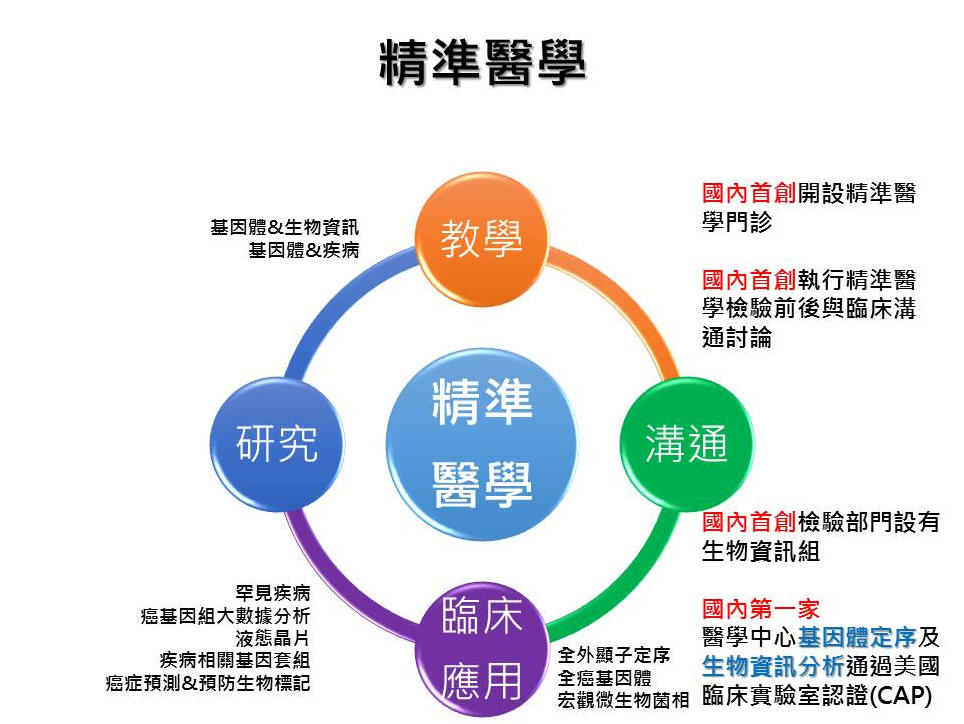 Service content
The exon testing is a test for the sequence of the genes of about 20,000 proteins in all humans. About 85% of human diseases are related to protein genes, so that this test can test about 85% of human diseases and relevant gene sequences only accounted for about 2% of human genome sequences. Thus, the whole protein gene test is the best method for the diagnosis of unknown diseases.
Genetic testing is a test on all sequences of cancer-related genes (about 500 genes). The formation of human cancers can be divided into two types: hereditary and sporadic, with about 500 related genes. This testing method is able to accurately diagnose relevant gene mutations of various cancers as a reference for future follow-up and treatment.
Test on the genic change that determines the effectiveness of the targeted therapy. The effect of targeted therapy depends on the genic change of targeted drugs, with different variations having different curative effects. For example, the mutation of EGFR has some good therapeutic effects, but some of them are resistant to drugs. Sometimes they are influenced by other genes, such as K-RAS mutation, which has poor therapeutic effects.
Cancer cell testing targets cancer cells in the blood (except leukemia). As cancer tissues in the body grow to certain size and often intrude into the blood and spread to all other parts of the body, other various non-leukemia cancer cells can be found in vivo through the analysis of blood cells by drawing blood,
Microbiological testing is aimed at all kinds of bacteria in the intestines. The microbes in the human gut must maintain an ecological balance so as not to lead to the disease suffered by the human host. A considerable number of diseases are known to be associated with microbial balance in the intestinal tract, such as obesity metabolic diseases and immune diseases. This method is mainly used to test the distribution and ecology of all kinds of bacteria in the intestinal tract.
Disease-related genetic testing is aimed at the genetic sequences of specific diseases. Most of the diseases are hereditary, except for acquired ones caused by environmental changes. In general, it can be divided into two causes: single gene and polygene, and one disease can be caused by a different single mutation or only one gene or a polygene or the addition of multiple genes. This method is to examine all related genes that cause a specific disease.
About instruments
| | | |
| --- | --- | --- |
| Covaris M220 | Agilent 4200 | Qubit 3.0 |
| MiSeq | NextSeq | |