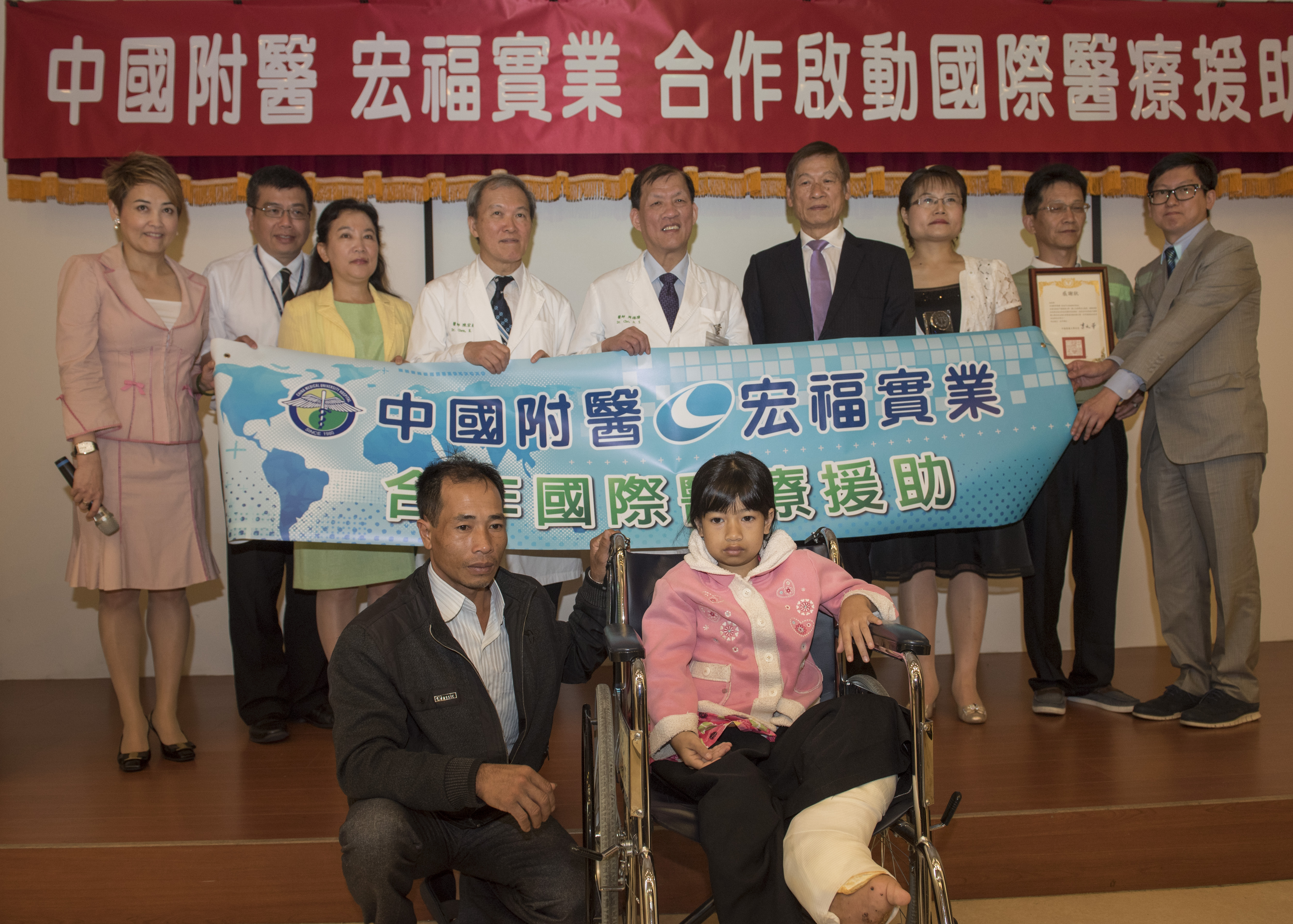 Towards the end of the 2012 year, the Chinese Medical University Hospital (CMUH) completed the first stage of surgery on a Vietnamese girl, Loan, that had deformed, giant legs; she was very lucky this year to have received charitable donations from Hong Fu Industrial Group, allowing her to once again arrive at CMUH to accept treatment from the director of the International Medical Center, Chen Hung-Chi, and his team. Director Chen Hung-Chi, with more than twelve years of experience in international medical treatment, expresses that he sees this case as being an integration of medical treatment, business, and the force of charity, which is allowing the patient to receive the complete three stages involved in the medical treatment. What is more important is that this case helps Taiwanese businesses strengthen their local relationships and expands Taiwanese diplomacy though the love of the boundaryless medical world and excellent medical treatment ability.
Hong Fu Gives Back to Vietnam: Charitable Donations of Medical Expenses
  12-year-old Loan is suffering from lymphatic vascular malformations, which has led to the severe deformation of her left leg, causing it to look like an elephant's leg. Four years ago, Loan completed the first phase of the reconstruction, which included the reconstruction of the rectum, anus and perineum, at China Medical University Hospital; however, after a few years, the lower limb condition rapidly worsened, and early this year, the Hong Fu Industrial Group, which has deep roots in Vietnam, was willing to generously sponsor her medical expenses (2.5 million NT dollars), allowing Loan to be able to complete all three stages of treatment. The next six months of the treatment, which will be administered by the medical team led by Chen Hung-Chi, will include removing the extensive lesion site on Loan's left leg and the reconstruction of this area. At the same time, the team will help Loan rehabilitate until she would be able to walk freely.
  With more than 100,000 employees in Vietnam, the Hong Fu Industrial Group is involved in local charity activities. The company not only goes to visit needy families through local factories but also provides scholarships to local university students that come from poor families. The Chairman of the Hong Fu Industrial Group, Zhang Cong-Yuan, said he hoped to use his own actions to influence others, attract more Taiwanese businessmen to give back to Vietnamese society, promote the cooperation of the Chinese with the Vietnamese, and enhance the reputation that Taiwan has on the international arena. Hong Fu Industrial Group will be financing the international medical treatment plan to help Vietnamese children with the rare diseases and is proceeding to establish a Vietnamese Children with Rare Diseases Fund.
The Unique Medical Leader Increases in Points for the International Medical Treatment Brand
International medical work is complex and diverse; therefore, the pioneer needs to be medical treatment that has unique characteristics that would allow it to step on the international stage and compete with other countries. Rare diseases and severe diseases that are difficult to treat are China Medical University Hospital's unique strengths, allowing for the solid, steady increase in brand points. Amongst CMUH's unique strengths is Director Chen Hung-Chi with his rich experience with the treatment of "big legs," making him an indispensable member of CMUH.
  Chen Hung-Chi has not only successfully treated people in Vietnam but has also successfully treated patients with severe diseases in Peru, Malaysia, and mainland China. Director Chen said that these rare diseases and severe diseases that are difficult to treat highlight Taiwan's humane spirit and Taiwanese doctors' benevolent mind and heart. As Chang Cheng-Fen, the dean of TAITRA, said, this humane international medical case has become the best model for Taiwanese medical treatments' movement into the world.