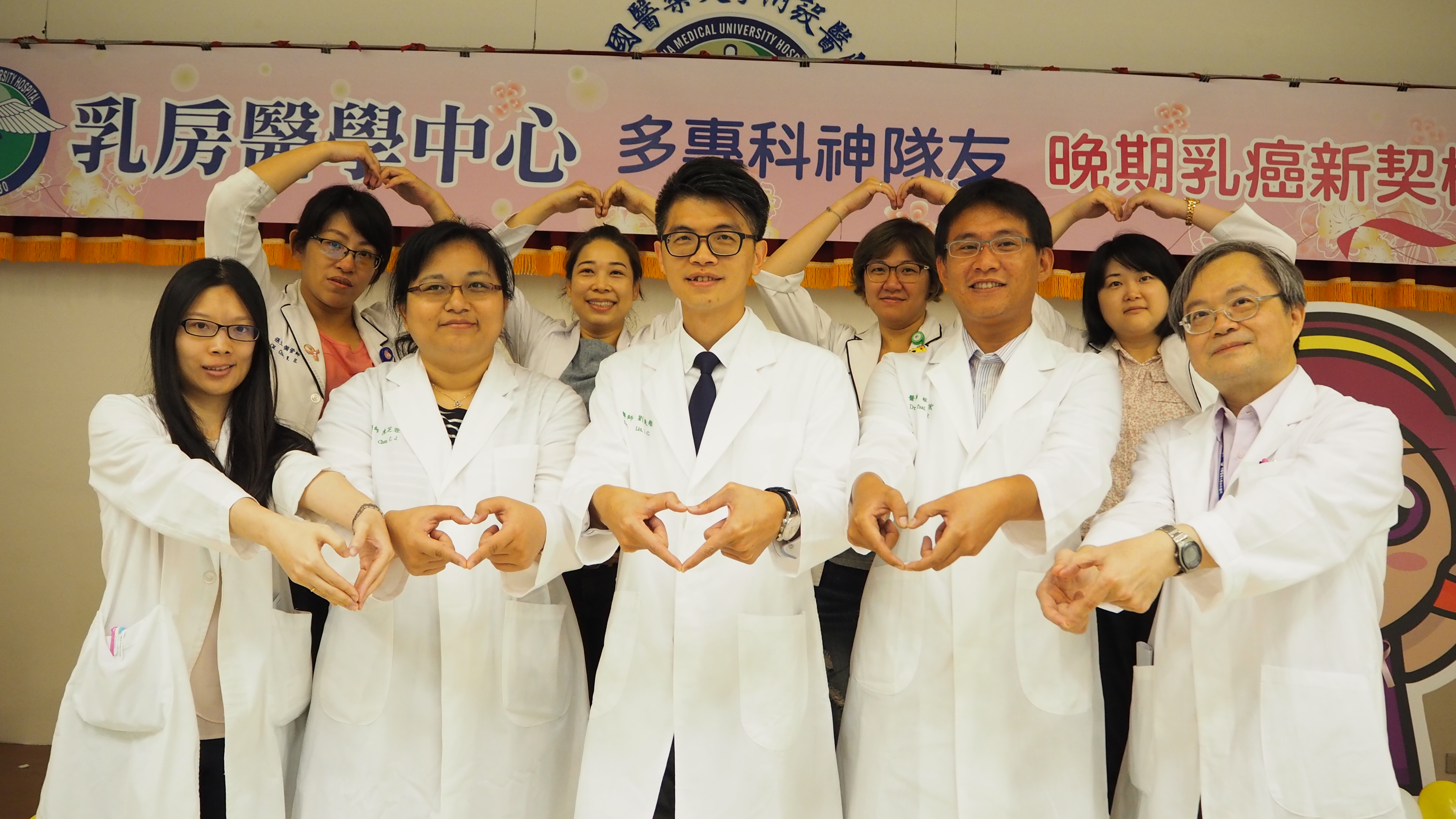 The Health Promotion Administration statistics reveal that about an average of 12,000 breast cancer patients is increased in Taiwan every year. Breast cancer patients are divided into HER2 positive or HER2 negative, two completely different prognosis of breast cancer. According to the genotypes, about one fourth of them belong to HER2 positive. CMUH Division of Breast Surgery Director Liang-Chih Liu suggested that if the tumor in breast cancer patients results in the excessive performance of HER2 protein due to genetic mutation, such tumor tends to grow faster in speed while its biological behavior becomes more malignant, resulting in the higher relapse compared with the breast cancer of other types.
  Approximately 25% to 30% of breast cancer patients are affected by the excessive performance of HER2 in the carcinoma cells inside the body, where carcinoma cells are not only powerful in breeding but also stubborn, impelling to high risks of relapse and metastasis. CMUH Multidiscipline team has successfully helped Ms. Zheng returning to Taiwan from South Africa with the treatment on late-stage breast cancer through team work.
  Ms. Zheng discovered some red bumps on her breast on 2015 Christmas and was diagnosed of breast cancer. At first she chose to escape from treatment, so her weight drastically dropped from 58KG to 40KG, while the carcinoma cells also became metastatic to the lung, liver and bone. Last December she returned to Taiwan and received multidiscipline team treatment for breast cancer. This August, no odor wound of ulcer could be found on her skin while her appetite also increased. "I am thrilled and I would like to thank the team for giving me the confidence without giving me up." "Thank God for the three men loving me in my life."
The golden period of treatment is the key to conquering the devil within.
  CMUH Division of Hematology and Oncology Physician Ming-Hung Tsai indicated that HER2 positive patients such as Ms. Zheng indeed are quite malignant with high relapse and poor prognosis. After engaging in active treatment through targeted therapy, the survival rate can reach about 80% while regular follow-up will be needed in the future. "Grasping the golden period of treatment is the key to successful cure." "Even late-stage breast cancer is not so scary." Even the most malignant HER2 positive breast cancer can be reduced with 24%~46% of relapse risk as long as the patients receive precise targeted therapy.
  Physician Ming-Hung Tsai stressed that one of the major bottleneck for breast cancer treatment is that patients become too scared for seeking medical help upon discovery or have neglected the power of tumor, worry about side effects and look but to give up on the treatment, which is really a pity.
Do not believe in alternative and false information. Multidiscipline team will help you born again
  Director Liang-Chih Liu called for "early discovery and early treatment" as the rule for preventing and treating breast cancer. Patients meeting the conditions for health insurance benefits should take advantage of health insurance resources and take standard and active treatment. Patients should not believe in alternative and alternative treatment so that they would miss out the golden period for treatment. "Do not joke about life." Even patients with late-stage metastasis and diffusion can receive go control under the professional love, care and treatment of CMUH Breast Cancer Multidiscipline team, therefore sharing happiness with their family.
  Physician Ming-Hung Tsai stated that the current standard for health insurance to give benefits to targeted therapy is when the axillary lymph nodes have become metastatic (Stage 2). However patients suffering from HER2 positive breast cancer but the lymph has not become metastatic, which is quite a pity because the treatment opportunity will be enhanced if the patients could receive targeted therapy treatment early.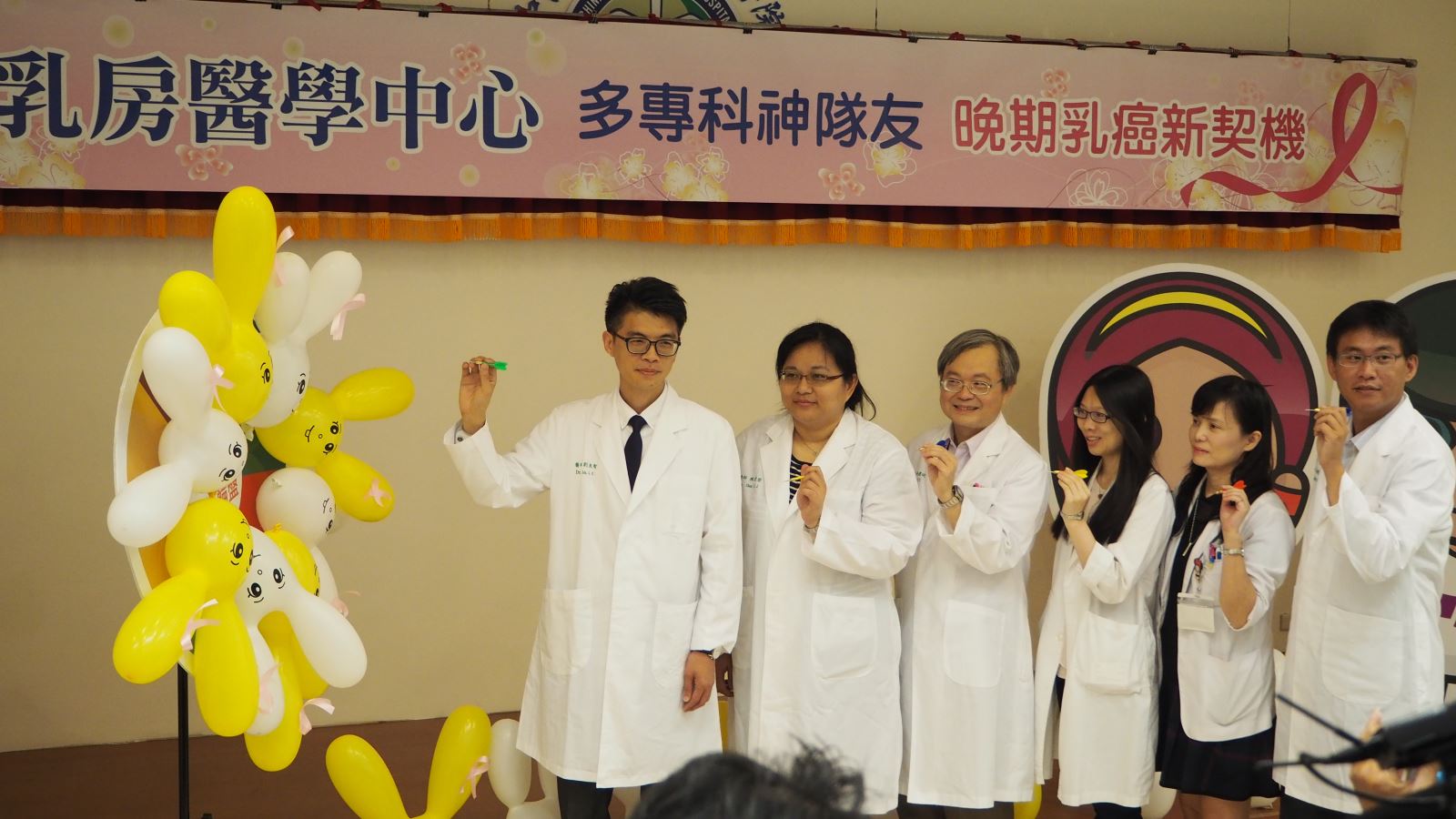 CMUH Division of Breast Surgery Director Liang-Chih Liu /
Division of Hematology and Oncology Physician Ming-Hung Tsai