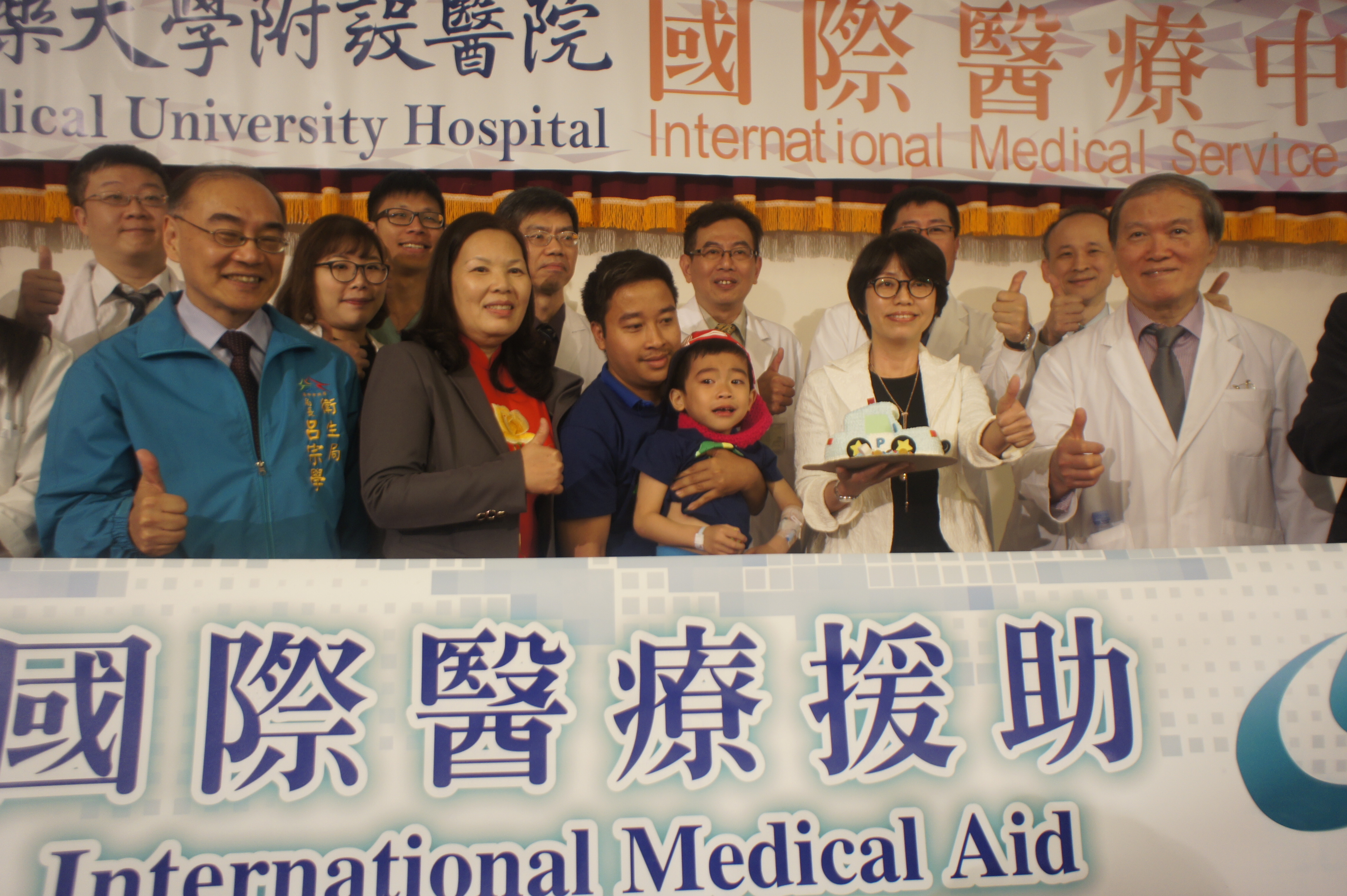 China Medical University Hospital has become one of the renowned international hospitals for treating patients of "Klippel-Trenaunay (-Weber) Syndrome"– with critical anomalies and certain complications. Hong Fu Industrial Group, an enterprise deeply rooted in Vietnam for decades, has been an avid philanthropic contributor in international medical aid. Following the first successful international medical aid cooperation for the 14-year-old Vietnamese girl –Thi Loan back in 2016, the two parties have joined hands again in 2018 to assist the 5-year-old Vietnamese boy Luu to receive treatment in Taiwan. CMUH has even integrated the momentum of the Precise Medical Center in genetic research to propose comprehensive solutions for treatment of multiple anomalies, hopefully benefitting a great number of children suffering from similar illness.

Hong Fu Industrial Group hopes to eliminate future possibilities of children with huge limbs and other organs through the second international medical aid cooperation.
Hong Fu Industrial Group is pleased in continuing to provide international medical aid for Vietnamese children with illnesses as part of their corporate culture in fulfilling international corporate responsibilities and intends to spread the power of love from Taiwan. "We hope no more children will suffer from such illness in the future. We shall continue onward and we hope to set an example for others to follow." CMUH Superintendent Der-Yang Cho complimented Hong Fu Industrial Group's concept of "Medical Dedication of Love and World Benevolence and Common Virtue". Hong Fu Industrial Group sponsored Thi Loan with 4 million NTD back in 2016 and this year, sponsored Luu with 2.5 million NTD. Their commitment and love is truly admiring. CMUH medical team shall deliver the high standard medical technology and services in completing this mission.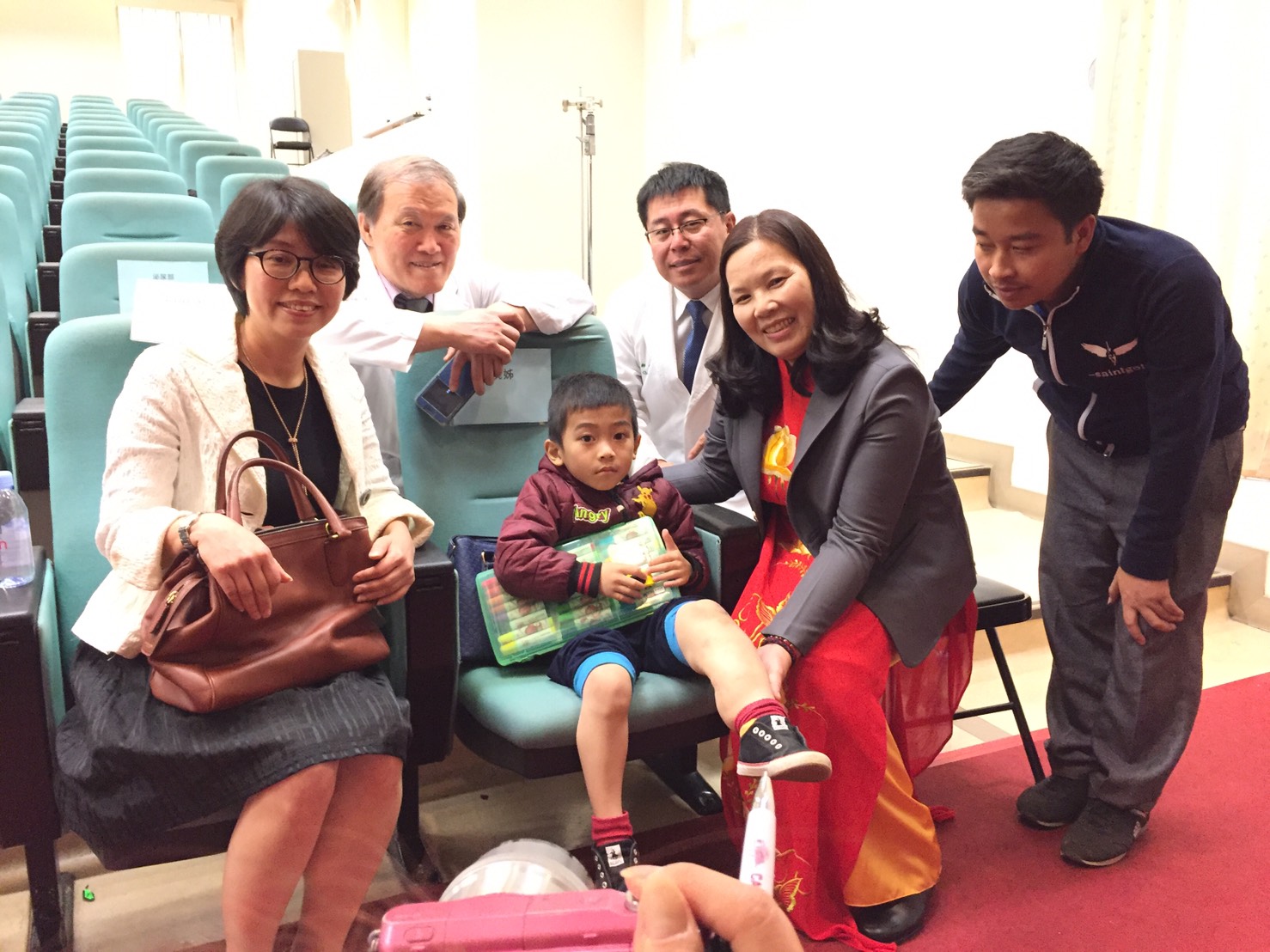 Collaboration from inter-department medical teams in completing 4 surgeries over 2 stages
CMUH International Medical Service Center Superintendent Hung-Chi Chen and Vice Superintendent Tzu-Liang Chen called individuals from the different departments to form the medical team that will execute the medical plan for Luu. Superintendent Chen suggested that Luu also suffers from "Klippel-Trenaunay (-Weber) Syndrome" and the medical plan mainly aims to perform surgical treatment on the excessive proliferation of the left lower limb and the symptoms of limb anomaly. The surgery is expected to take 7 months and will be divided into 2 stages through reconstructive surgeries for four different organs. Procedures shall include reconstruction of the multiple anomalies and resection of abnormal tissues, wound coverage, scar and contracture treatment, and ultimately allowing joint activities, muscle strength and limb functions to return to normal. Hung-Chi Chen stated that the inter-department medical team is prepared and smile will soon burst forth on Luu's face.

Precision medicine assists in the gene analysis with dedication to find possible new treatment solutions
Apart from performing surgical treatment on Luu, CMHU Precision Medical Center Vice Superintendent Jan-Gowth Chang indicated that CMUH expects to find more effective medication approaches for treating similar illness through CMUH precision medicine's gene analysis reading. The findings will inhibit the proliferation of anomalous tissues and other problems by proposing comprehensive treatment solutions that will lower the frequency for surgical rehabilitation and alleviate the pain for the children.

International Medical Service Center Vice Superintendent Tzu-Liang Chen expressed gratitude to Hong Fu Industrial Group for the generous contribution of love and the assistance from TAITRA and other contributing organizations. Luu is the third child with multiple anomalies (following Thi Loan, Xiao Yang) to receive treatment from CMUH in the recent years. Weighing 35KG at that time, Thi Loan was very thin but after the removal of 15KG of anomalous lymphatic tissues through 3 stages and 5 operations of multi-department complex and joint reconstructive surgeries that lasted almost 1 year, she now can fulfill her dream of riding a bicycle, going to school and helping out with work at coffee plantations. CMUH and Hong Fu Industrial Group are the best partners in international medical aid cases. We have saved Thi Loan, changed her life, and offered the family with a bright new future. "Hong Fu Industrial Group is the life-saving angel for children with multiple anomalies in Vietnam."
CMUH International Medical Service Center Superintendent Hung-Chi Chen