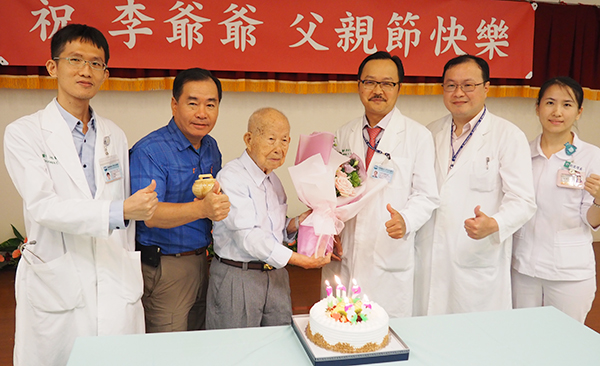 Dr. Chi-Ping Huang, Department of Urology /
Dr. Hung-Chieh Yeh, Department of Nephrology /
Dr. Mu-Cyun Wang, Department of Geriatrics

Prostate gland enlargement and prostate cancer are common problems in older men. It often causes difficult treated urinary tract obstruction and kidney failure by negligence. China Medical University Hospital has successfully regained health for a male centenarian by team cooperation of Department of Urology, Nephrology, and Geriatrics.

Rescue the life of a centenarian by emergency hemodialysis
Mr. Lee, aged 102, suffers from prostatic hypertrophy and hypertension but he has always been strong and can ride a bicycle when he is 100 years old. In the past month, Mr. Lee has had edema, increased high blood pressure, and tired etc. His family has brought him to our hospital and sought for medical treatment. His examination results presented a critical condition of prostate gland enlargement with urinary retention and bilateral renal edema-induced acute kidney failure, pulmonary edema, and acidemia.

Due to the severe kidney failure with only 2% of normal kidney function left, nephrological physician decided to perform the emergency hemodialysis for Mr. Lee after discussing with his family and Dr. Chi-Ping Huang from Department of Urology proceeded to perform the laser prostatectomy while achieving a stable condition.

After the operation, Mr. Lee's kidney function had been recovered and stopped the dialysis, whereas with a weak physical function, the geriatric team took over with the functional rehabilitation and the following cares. Two weeks after the prostate surgery, Mr. Lee discharged by walking.

Prostate cancer is diagnosed by a known pre-operational high value of PSA (prostatic specific antigen), and the post-operational pathological section report. Mr. Lee received regular treatment of a new generation of hormone therapy in the urology clinic after surgery, and currently has a stable condition and the PSA is remained at a very low level.

New generation of endoscopic surgery- photoselective vaporization of the prostate, with less bleeding and comorbidity
Dr. Hung-Chieh Yeh, Department of Nephrology of China Medical University Hospital indicated that the urinary tract obstruction is one of the common causes of the kidney failure and the failed kidney function is possible to be recovered if having an early diagnosis and treatment of the urinary tract obstruction. In this case, the purpose of emergency hemodialysis was to stabilize physical condition in order to receive farther surgical treatment for the male centenarian, and once the urinary tract obstruction was relieved and kidney function was recovered, the dialysis can be stopped.

Dr. Chi-Ping Huang, Department of Urology of China Medical University Hospital indicated that prostate gland enlargement and prostate cancer-induced urinary tract obstruction and acute urinary retention often cause a fatal risk for chronic renal dysfunction or hear failure patients, especially elderly patients. The problem of how to solve urinary retention or prostate cancer can be evaluated by urologists to provide a safe and effective treatment option according to the patient's expectations.

Dr. Mu-Cyun Wang, Department of Geriatrics of China Medical University Hospital indicated that in addition to the original chronic multiple comorbidities, elderly individuals may have temporary or permanent disability if they are hospitalized for acute illness. When the acute illness has healed, a thorough evaluation of the elderly individual should be actively implemented to identify the underlying causes and early intervention to rebuild their living. After instructing Mr. Lee with training of lower extremity muscle strength and balance exercise, he returned home and has recovered his quality of life, regained his former spirit and physical strength.