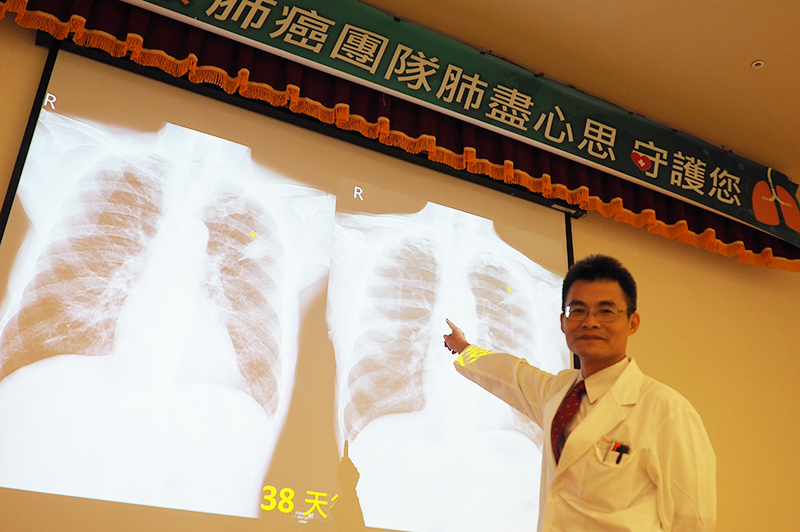 CMUH Lung Cancer Team / Division of Chest Medicine Director De-Chun Xia
Division of Chest Medicine Physician Hong-Ren Chen
There have been three major revolutions in the development of treatments for lung cancer: chemotherapy; targeted therapy; and currently immunotherapy. The Ministry of Health and Welfare recently announced that autoimmune cell therapy is permitted under the "Restricted Control Regulations" and is perhaps a new treatment option for patients with lung cancer.
The third revolution of anticancer treatment, immunotherapy development is in full swing.
How do we awaken dormant immune cells? The Division of Thoracic Medicine Physician Hong-Ren Chen stated that approximately 20% of patients with lung cancer have immune cells that have identified cancer molecules inside the body, but the cancer cells have activated stop brakes to prevent their destruction. Once the brake is activated, the immune cells treat cancer cells as one of their own, cease firing and go back to sleep. "Immune checkpoint inhibitor" is the anticancer drug designed to overcome these immunity brakes.
So what can we do about the patients with lung cancer, whose cancer cells have been hiding since the beginning so that immune cells cannot identify them? Existing research suggests that immunotherapy can be augmented with chemotherapy and radioactive treatment. This is because chemotherapy and radioactive therapy will kill some cancer cells and some of the fractured cancer cells will increase antigen presentation, thereby enhancing the identification of cancer cells by the immune system.
Implant trained immune cells, further hunt down lung cancer
The Ministry of Health and Welfare promulgated a law on September 6 regarding medical technology inspection and the utilization of medical instruments. This law stipulated that autoimmune cell treatment can be given to Stage 1 to Stage 3 cancer patients when current treatment options have been ineffective and Stage 4 cancer patients after approval by and registration with the Ministry of Health and Welfare. In other words, patients with lung cancer who have found standard treatment ineffective can extract their autoimmune cells to culture, enhance the cells with stronger hunting ability for lung cancer through in vitro drug stimulation, and then have the cells transplanted back into the body. Incorporation of the "immune checkpoint inhibitor" should in theory strengthen the treatment potential.
The three revolutions in anticancer drugs – chemotherapy, targeted therapy and immunotherapy
Physician Hong-Ren Chen indicated that the concept of and technology for cancer treatment changes constantly. The first concept was chemotherapy, which was discovered after 1940. The function of chemotherapy drugs is to kill cells that are dividing quickly, which is effective against cancer cells. However, this function also affects the normal operation of the human body. Hence, chemotherapy drugs can even kill people when at sufficiently high dosages. For example, arsenic (arsenic trioxide), the poison which Jinlian Pan and Meng-Qing Xi used to kill Dalang Wu, now has a branded drug name – Asadin, used for treating leukemia.
The second revolution for drugs in treating lung cancer is "targeted therapy". Mentioned before, it has always been a challenge for scientists to find drugs that can kill lung cancer cells without affecting normal cells. In 2003, the FDA approved the first targeted therapy drugs for lung cancer. Today, any non-small cell lung cancer (particularly lung adenocarcinoma) with an EGFR, ALK, ROS-1, Met, or BRAF mutation will have a corresponding targeted therapy treatment. However, cancer cells will continue to evolve and resistance to these drugs will inevitably occur over time.
As such, treatment by immunotherapy, and even the recent autoimmune cell treatment prescribed in "Restricted Control Regulations", will generate fresh new turning points for the treatment of lung cancer.