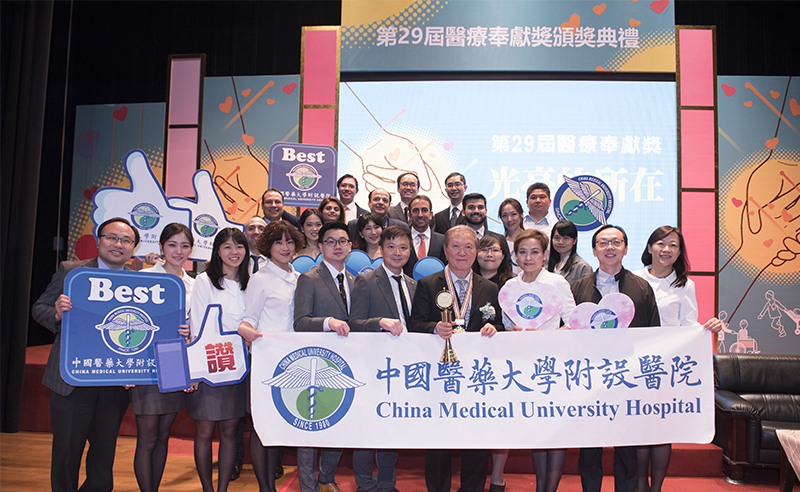 Taiwan's remarkable medical services not only help patients at home and abroad but also upgrade Taiwan's international medical brands. Over the last 43 years of working in the medical industry, Superintendent Hung-Chi Chen of CMUH International Medical Center has focused on difficult reconstructive microsurgery and completed multiple cases of international critical illness, whose tentacles reaching the international humane medical emergency rescues. Superintendent Chen leads the team to activate international healthcare philanthropy through corporate sponsorship, which diverse and innovative marketing schemes expand the medical soft power in depth and breadth with distinguished performance. This year, the team is awarded with the 29th Medical Contribution Award.
President Tsai Ing-Wen received and praised CMUH as the key power in connecting Taiwan's medical technology with the world
President Tsai Ing-Wen received and expressed that Superintendent Hung-Chi Chen's integrated reconstructive microsurgery for treating multiple congenital malformations is unrivaled and currently physicians from 26 countries are studying from Superintendent Chen. Taiwan's medical technology is the key power in connection with the world and Doctor Hung-Chi Chen is one of the key pushing hands. Chen Chi-Mai, Vice Premier of Executive, also indicated that Doctor Hung-Chi Chen active assistance in helping international patients with rare congenial malformation receive complete treatment is renowned as the top surgeon of Taiwan in the international communities.
Patient oriented, CMUH advocates for international medical services
"Patient oriented" and "providing distinguished and holistic medical services" are one of the key values and missions of CMUH. Under the promotion of international medical services by CMU and CMUH Chairman Chang-Hai Tsai and Superintended Der-Yang Cho, Superintendent Hung-Chi Chen leads to international medical center to collaborate with the medical and administrative teams so that the international patients could receive the best medical services in one-stop green passage. "Healthcare philanthropy is an universal value," said Superintendent Hung-Chi Chen, who appreciates the full support from CMUH in the development of international medicals services and the medical contribution award is the recognition for CMUH teams.
"A Perfect Pair" received over 10 million clicks and sets up an example in corporate sponsorship for healthcare to promote Taiwan's international brand
Superintendent Hung-Chi Chen is internationally renowned for two difficult reconstructive microsurgeries in "lymphatic and vascular malformation treatment" and "autonomy gastrointestinal tracts implant and organ reconstruction." In the last 10 years, 117 foreign physicians from 26 countries have come to study from Superintendent Chen and Chen has taught them everything he knows without holding back. "There is limitation for one person to help others and it will be marvelous if more doctors can learn to help the patients from their own countries." Superintendent Chen also stated that international healthcare can be brought into full play when treating the patients. The CMUH team has successfully cooperated with Taiwanese enterprises, including Hong Fu Industrial Group and Pou Chen Group to activate the international healthcare philanthropy through corporate sponsorship. Over NTD10 million in sponsor has helped three children patient with critical illness from Vietnam and Myanmar, who start a new life after seeking medical treatment in Taiwan. Superintendent Chen has delegated the team to execute humane medical emergency rescue in Shirdi of India and Arangabad. Because of the case in healthcare philanthropy in Peru, Miss Universe from Peru and the First Lady jointed the fundraise, and it was the first time that Taiwan's flag was raising in the Government Palace of Peru.
International healthcare is the best helper for expanding the diplomacy for a city and country. We have successfully enhances the enthusiastic exchange between Guam of U.S.A. and Taichung Chung to pave the path for alliance of friendly city. In 2018, the Ministry of Foreign Affairs produced the film, "A Perfect Pair" based on CMUH's case in philanthropy healthcare in Vietnam. The film became the promotional short film for WHA and received over 10 million clicks, adding more publicity to Taiwan's medical diplomacy.
The International Medical Service Team integrates technology, service and marketing in one with nomination to the three major awards in IMTJ award, recognizing Taiwan's the global publicity in medical services
The International Medical Center team "befriends with the world through medical services." Superintendent Hung-Chi Chen expressed that CMUH focuses on upgrading the medical technology while utilizing the innovative and diverse practice in communicating with the world, in order to market and promote Taiwan. This year, CMUH is nominated for the finals to the world prestigious International Medical Travel Journal (IMTJ) in categories of "Best Marketing Initiative," "International Patient Care Center" and "Excellence in Customer Services." CMUH also fully supports the team to participate in the award ceremony held in Berlin, German on December 3. CMUH will again present the medical soft power of Taiwan to the world with the distinguished honor in medical contribution award.