Our Speciality
Gastrointestinal diseases refer to diseases involving the gastrointestinal tract, namely the oral cavity, esophagus, stomach, small intestine, large intestine, liver, gallbladder, bile duct, pancreas and peritoneum. The symptoms of gastrointestinal diseases include digestive system itself and other systems, or even systemic symptoms.
Due to the improvement of endoscopic diagnosis, many gastrointestinal diseases can be diagnosed by endoscope and be treated by gastrointestinal endoscopy. Many tradition surgeries have been replaced by endoscopic treatment. Our gastrointestinal endoscopy center had been established in October 1999. The endoscopic treatment team in our gastrointestinal endoscopy center is led by physicians specializing in endoscopy, specialists in gastrointestinal diseases and professional technicians. We introduce advanced endoscopic equipment and techniques to provide the safest and the most comprehensive treatment. Moreover, we cooperate with other teams, including the division of interventional radiology, the division of general surgery, the division of colorectal surgery and the division of otolaryngology, to expand our business scope and offer medical services of good quality.
Gastrointestinal endoscopy center – traditional endoscopy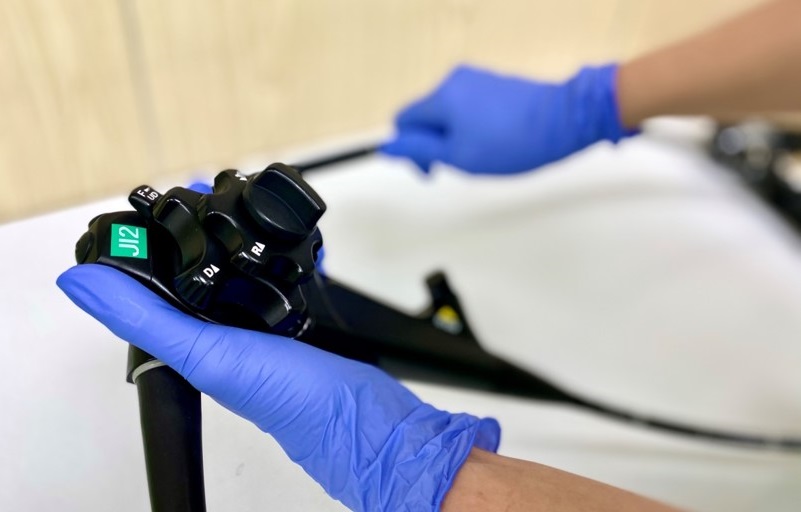 In general, patients traditionally receive an upper gastrointestinal endoscopy (gastroscopy) or a colonoscopy as their endoscopic examination.
An upper gastrointestinal endoscopy is inserted from the esophagus through the stomach and the duodenum to the beginning part of small intestine. A colonoscopy is inserted from the anus through the rectum, the colon and the cecum to the end of small intestine. Therefore, many upper and lower gastrointestinal diseases can be diagnosed by the examination. Traditional endoscopies can diagnose diseases (inflammation, ulcers, cancers and obstructions) and treat diseases (endoscopic hemostasis and removal of foreign bodies).
Advanced endoscopic diagnosis and endoscopic therapies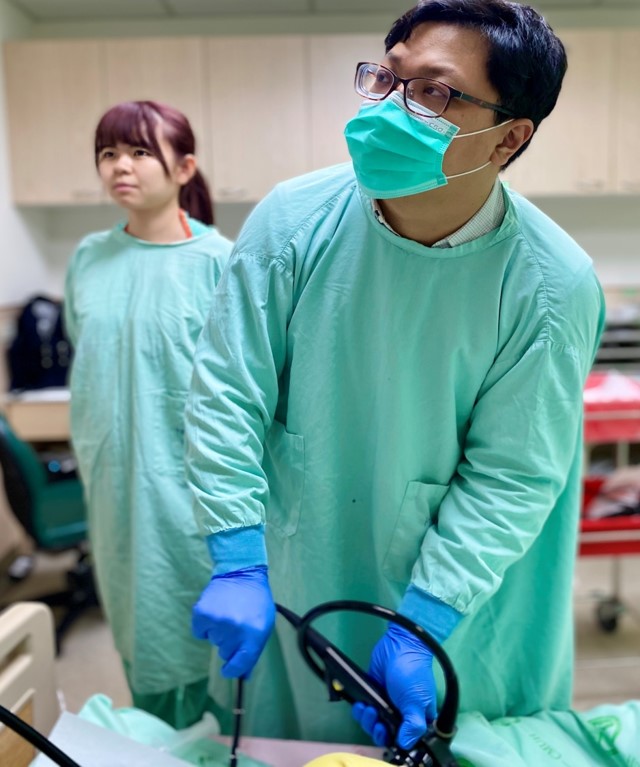 Except the traditional endoscopy, our gastrointestinal endoscopy center also introduced advanced medical equipment such as ERCP, choledochoscopy (SpyGlass DS), double-balloon enteroscopy (DBE), small-bowel endoscopy, capsule endoscopy, EUS and the cutting-edge advanced diagnostic endoscopy like magnifying endoscopy and narrow band Imaging. In addition, we also introduced the advanced endoscopic techniques, namely, GI polypectomy, endoscopic mucosal resection (EMR), ESD, POEM, esophageal dilatation, gastrointestinal dilatation, biliary dilatation, GI metal stent placement, endoscopic sphincterotomy (EST) of the papilla of vater and extraction of stones, pancreaticoduodenectomy (PD) for ampullary carcinoma, biliary metal stent placement.
GI dilatation and metal stent placement
GI dilatation and endoscopic metal stent placement are useful therapy to palliate gastrointestinal obstructions by malignant tumors and benign stricture.
Endoscopic sphincterotomy (EST) of the papilla of vater and extraction of stones
Utilizing cholangiopancreatoscopy to perform stones extraction for patients having stones, stricture or tumors in their biliary duct or pancreatic duct.
Pancreaticoduodenectomy (PD) for ampullary carcinoma
Utilizing cholangiopancreatoscopy to perform endoscopic tumor resection in patients with benign or malignant ampullary tumors.
Choledochoscopy
To those patients with unknown biliary stricture, unknown biliary tumors and huge stones failure to be removed by cholangiopancreatoscopy, the advanced SpyGlass DS can help get accurate diagnosis and treatment.
The diagnosis and the therapy of endoscopic ultrasound (EUS)
EUS device combines an endoscopy and an ultrasound probe. EUS can treat lesions around GI tract both inside and outside of GI wall. EUS can closely observe lesions without the disturbance of intestinal gas, soft tissue and bones. Those undiagnosed tumors still have a chance to be diagnosed by EUS guided fine needle aspiration and get well treated such as gastrointestinal submucosa tumors, mediastinal tumor and pancreatic tumors. EUS can be used in the drainage of pancreatic pseudocysts as well. In addition, EUS is also used in determining the depth of tumor invasion and provides an important foundation for the therapeutic strategy.
Double-balloon enteroscopy (DBE)
Double-balloon enteroscopy (DBE) allows complete examination of the diseases of small intestine, such as tumors of the small intestine, inflammatory bowel disease, vascular lesions and small-intestinal mucosal lesions, which are not easily examined by traditional endoscopies. DBE, which is made up of two parts (a 200-cm enteroscope and a 140-cm overtube), examines small intestine by moving forward and backward; and inflating and deflating alternately. DBE allows repeated observation, biopsy and treatment of lesions. DBE is currently the only non-surgical full-length exploration of the small bowel. However, the disadvantages of DBE include long procedural time, extended anesthesia support and the risk of radiation exposure.
Capsule endoscopy
The capsule is similar in shape to a standard pharmaceutical capsule containing a tiny camera, image transmitter and a sophisticated battery. After swallowed, the capsule will record internal images of the gastrointestinal tract continuously and transmit images wirelessly to an external receiver. Although the capsule endoscopy can record full-length exploration of the small bowel, it cannot be used to observe lesions repeatedly and undergo biopsy and medical treatment. DBE and capsule endoscopy totally change the way physicians diagnose and treat diseases. However, there is no perfect procedure. While capsule endoscopy is painless but non-therapeutic, DBE is surgery-free but time-wasting and uncomfortable.
Endoscopic mucosal resection (EMR) and endoscopic submucosal dissection (ESD)
The early gastrointestinal tumors can be treated by EMR and ESD, of which the contraindications include early-stage hypopharyngeal cancer, early-stage esophageal cancer, early-stage stomach cancer, early-stage colorectal cancer, flat adenoma of the colon and Barrett's esophagus. In addition, gastrointestinal submucosa tumors such as stromal tumor, neuroendocrine tumor, carcinoid, ectopic pancreas and lipoma can be treated by ESD. Moreover, patients with achalasia can be radically treated by per-oral endoscopic myotomy (POEM). Furthermore, patients with severe gastroesophageal reflux disease (GERD) can be treated by anti-reflux mucosectomy (ARMS).
Acoustic radiation force impulse (ARFI)
Acoustic radiation force impulse (ARFI) imaging is a safe and non-invasive ultrasound-based diagnostic technique that measures liver stiffness. This method easily and accurately assesses the staging of fibrosis (the amount of collagen) by monitoring the speed of shear wave propagation (m/s). Generally speaking, the speed of shear wave propagation and the stiffness of your liver are in direct proportional. Only less than 5-10% results should take other factors (the attenuation of acoustic waves, inflammation, high static and dynamic pressure of fluid and jaundice) into consideration and need further explanation. Since the technological advancements, universalization of modules, cost reduction and the progression of algorithm, stiffness measurement will be the easiest, the most accurate and non-invasive quantification of liver fibrosis in the future.