Assessment of Vocal Cords 聲帶評估

Assessment of Vocal Cords 聲帶評估
2023/1/12
Do you have a problem with your vocal cords? Start with the following assessment:
Basic assessment
How long ago did hoarseness first appear? How many times has hoarseness occurred? How long has the hoarseness lasted this time?
How many hours do you talk every day?
Is your work environment noisy? Is the air good? Do you need to talk continuously or can you take a break halfway through the session? How long does it take for a speech session?
Do you feel discomfort in your torso, chest, neck, head, or whole body while speaking?
Do you think you speak too loudly? Do you have hearing abnormalities?
Do you think you speak too fast?
Disease history
Have you ever had a respiratory illness other than a cold? If so, what disease?
Have you ever suffered major trauma? If so, what kind of injury?
Have you ever had an operation? If so, what kind of surgery?
Have you ever had throat surgery? If so, what kind of surgery?
Have you ever had stomach trouble or too much gastric acid?
Have you ever taken stomach medicine for a long time?
If you become mute for more than 2 weeks and do not respond well to drug therapy or rest, it is recommended that you go to the hospital for a further examination. At present, there are some useful devices for laryngeal diseases examination:
​The instrument can record the larynx dynamically and emit the same number of flashes as the frequency of vocal cord vibration per second. With the precise computer image analysis system, it can effectively analyze the physical parameters of vocal cord motion, such as vibration amplitude, elasticity and symmetry, so as to detect vocal cord lesions early and provide a clear direction for follow-up treatment.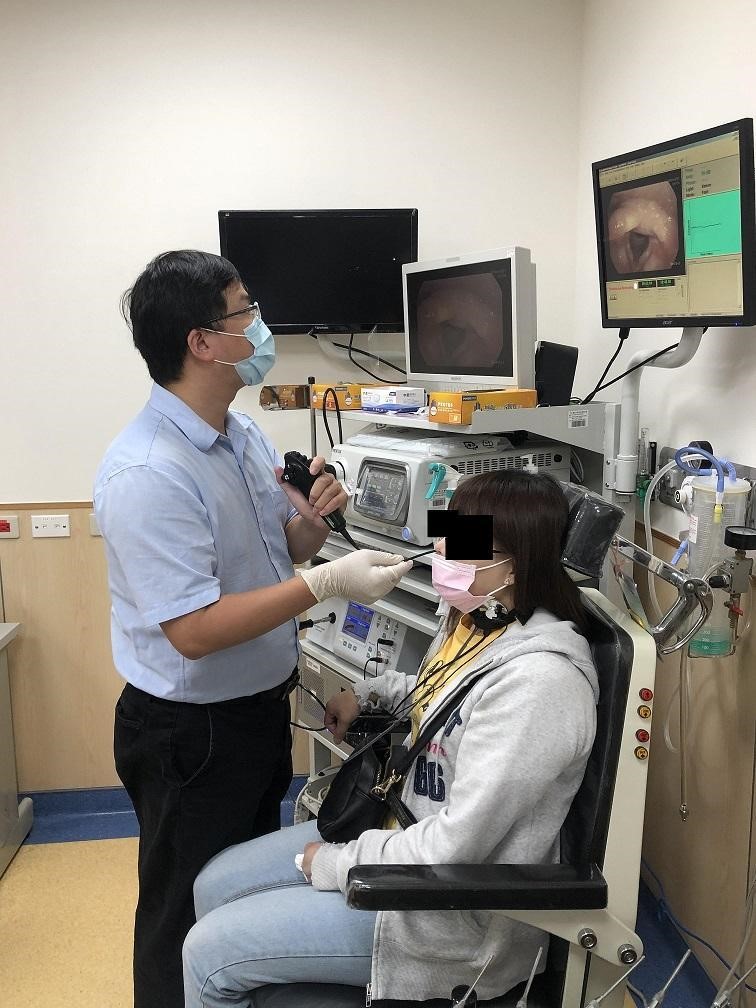 A flexible nasopharyngoscope can provide patients with comfortable examination, allowing immediate video recording and allowing the patient to see the movement of the vocal cords and understand the problem.

In addition, a flexible nasopharyngoscope can provide early diagnosis and treatment for nasopharyngeal carcinoma, tonsil cancer, laryngeal cancer, even hypopharyngeal carcinoma and esophageal orifice cancer.

For patients with recurrent or chronic hoarseness, this examination is very necessary to rule out the possibility of laryngocarcinoma, hypopharyngeal carcinoma or upper esophageal carcinoma at an early stage. If diagnosed with one of the above cancers, it will not miss the ideal time for treatment.

若有任何疑問,請不吝與我們聯絡
電話:(04) 22052121 分機 13207
HE-84052-E

中國醫藥大學附設醫院暨體系院所

}