Plantar Fasciitis 足底筋膜炎

Plantar Fasciitis 足底筋膜炎
2022/5/16
Young or mid-age people often suffer from "pain in the sole". We see many casesevery day, which indicates its prevalence.
It is usually related to the shoes one wears, but high heels or shoes with short heels do not often cause the pain.
Structure and Location
Plantar fascia is consisted of many layers of thick fibrous fascia. It starts at the heel and fans out to attach onto toe bones. The center part is the most obvious and is divided into superficial layer and deep layer with functions of tightening heel bone and foot to make an arch on the bottom of the foot to provide pressure endurance and flexibility while walking.
Besides, the bottom and surroundings of heel bone are covered with thick layers of fat and fibers to form a soft cushion.
Why Does the Pain in the Sole Occur?
Pain in the sole occurs mostly due to excessive use, such as standing or walking for too long, jogging, walking on massage path too often, or walking on uneven gravel surface for too long. Moreover, the thickness of the sole of shoes may be one of the triggers.
The activities mentioned above may lead to plantar fascia injury and further cause acute or chronic inflammation.
Patients with plantar fasciitis often feel the dramatic pain when they put their feet on the floor in the morning and the pain subsides after walking around for a short while. However, the onset of pain occurs again in the afternoon or when standing for too long with excessive activities. The pain comes and goes and may continue for an extended period of time.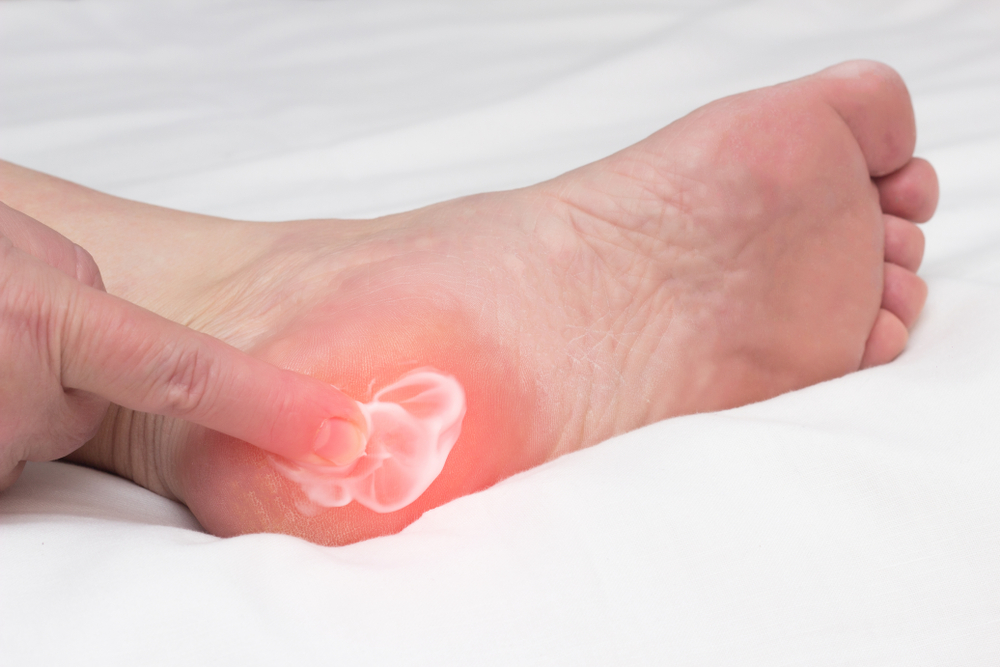 Diagnosis
The pain is usually limited to the sole near the starting point of plantar fascia. It is very painful when pressed with hands. Patients often think they have a spur in the heel. However, X-ray indicates that spur does not always cause pain. Instead, people without spurs often feel the pain in the sole. Patients are troubled with difficulty in walking and they usually sit down to rest for a while to relieve the pain a little bit.
Prevention is Better than Treatment
Reduce weight burden.
Reduce the use of sole, avoid standing for too long, stop hiking, walking on massage path, and jogging temporarily until the pain disappears completely.
Switch to other sports, such as swimming when plantar fasciitis occurs and do not hike or jog.
Control diet and lose weight.
Choose shoes carefully and wear right size of shoes. The insole is very important as well. Thick and soft insoles can better prevent plantar fascia from receiving too much tension that causes inflammation.
Treatments
The best way to start treatments is to go to an orthopedist for accurate diagnosis with interview and X-ray, if needed, and for prescription drugs.
Hot compress, elevating feet and letting calves rest may relieve some pain.
Small dose of steroid injection is recommended if the methods mentioned above do not work after a few weeks. Four steroid injections in a year as instructed by the doctor will not have side effects.
Folk therapies, traditional massage, acupuncture, or cupping may worsen the symptoms if not done properly. Please go to a certified Chinese medicine orthopedist.
Surgical treatment is recommended when the treatments mentioned above do not work, usually after 1 year of treatment. The inflamed plantar fascia is removed and spur will be removed as well if there is one. In few cases, the branches of nerve may need to be cut off to reduce the pain. Patients will need to rest for a period of time after surgery for complete recovery and should watch out for the possibility of reccurrence.
若有任何疑問,請不吝與我們聯絡
電話:(04) 22052121 分機 15990
HE-20155-E

中國醫藥大學附設醫院暨體系院所

}