Newborn Screening 認識新生兒篩檢

Newborn Screening 認識新生兒篩檢
2023/3/21
Newborn screening is conducted for congenital metabolic disorders, with the aim of early detecting congenital abnormal metabolic diseases in infants and giving appropriate treatment to reduce the physical or intellectual damage caused by the disease.
Screening time
In order to check whether your baby has congenital metabolic disorders, the hospital will make a pinprick puncture in one heel of the newborn to collect their blood 48 hours after they are born and send it to a newborn screening center designated by the Bureau of Health Promotion of the Department of Health for the detection of congenital metabolic disorders.
Newborn screening items
At present, there are 11 kinds of congenital metabolic disorders, which are included in the routine screening items for newborns. The following are descriptions of the two most common diseases. For other items, please refer to the children's health manual.
Glucose-6-phosphate dehydrogenase deficiency (G6PDD, also known as favism)
Three out of every 100 babies get the disease. This is a common genetic disease in Taiwan. It is mainly due to the abnormal glucose metabolism of red blood cells in the baby. When babies with this disease are exposed to some foods or drugs, such as broad beans, mothballs, crystal violet, sulfonamide and antipyretic analgesics and other drugs, they are susceptible to acute hemolytic anemia. If not handled in time, it will lead to kernicterus which will affect their intelligence and is even life-threatening.
Children with G6PDD are more likely to develop severe neonatal jaundice during the neonatal period than normal babies, so if a newborn has severe jaundice in the first few days after birth, we should consider the possibility of them suffering from this disease.
Congenital hypothyroidism
One out of every 3,000 babies get this disease. There is almost no abnormal condition in the newborn baby until 2-3 months old. The cause is the lack of thyroid hormones in the baby, which affects the growth and development of cranial nerves and the body. If treated after the age of 6 months, most children will become mentally challenged, have short stature, growth retardation, but with early detection and thyroxine treatment given within 1-2 months after birth, the child will have normal intelligence and physical growth and development.
Other screening items are as follows:
Phenylketonuria
Homocystinuria
Galactosemia
Congenital adrenal hyperplasia
Maple syrup urine disease
MCAD deficiency
Glutaric aciduria type I
Isovaleic acidemia
Methylmalonic acidemia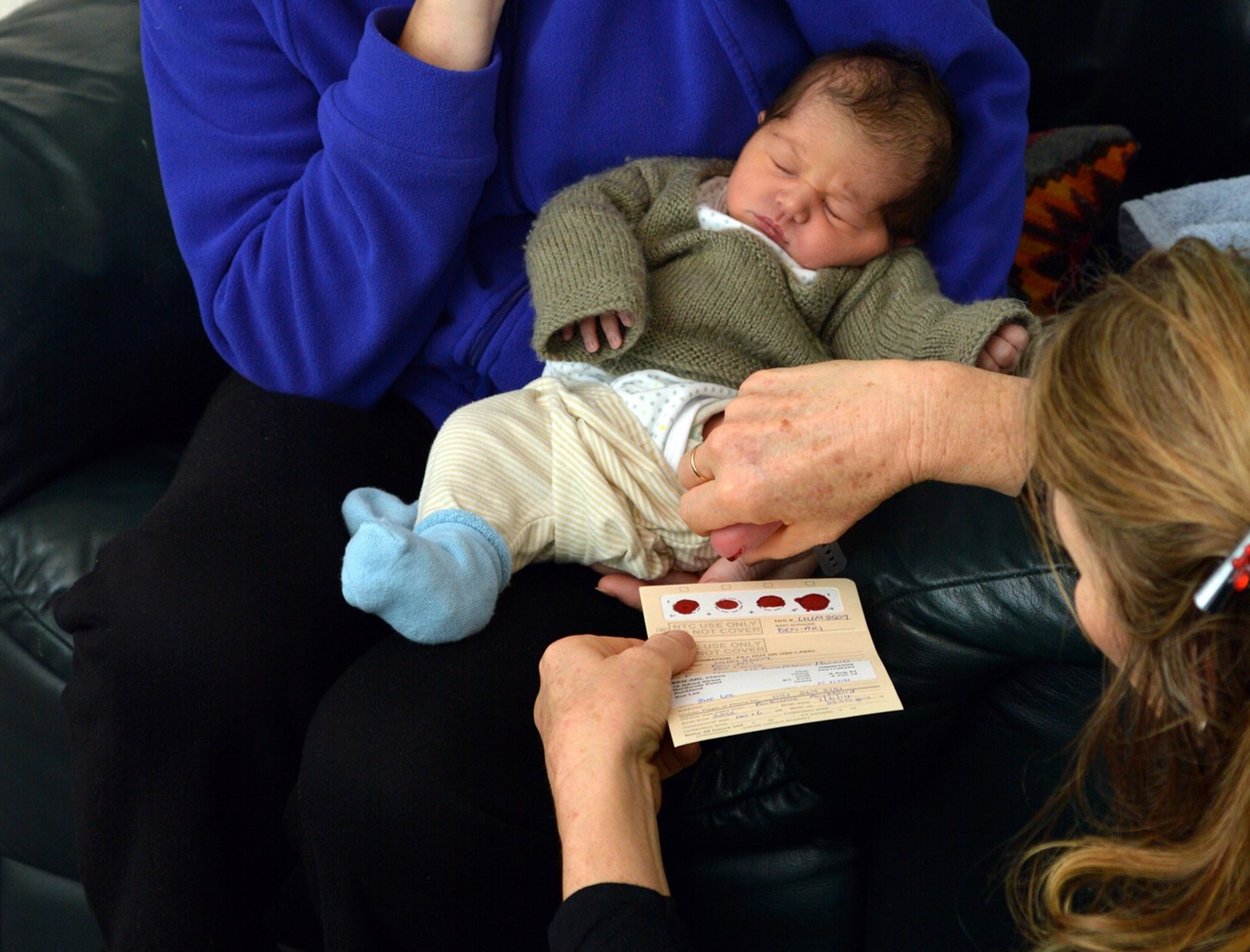 Precautions after newborn screening
During newborn screening, the hospital will make a pinprick puncture in one heel of the newborn to collect their blood, which might lead to a slight bruise. The bruise usually disappears after a few days. There is no need to apply medicine or a hot compress. Parents don't have to worry too much.
Before knowing the screening results, please do not let the baby touch mothballs nor take any medicine, and be sure to pay attention to the condition of neonatal jaundice. If the baby has health problems, please consult the medical staff. If mothers are breastfeeding, do not eat broad beans for now.
Access to your baby's newborn screening report
The results of initial screening/re-screening can be checked online 2 weeks after blood collection.
The Chinese Foundation of Health – Newborn Screening Center
Newborn screening inquiry website: http://www.cfoh.org.tw
Newborn screening inquiry line: (02)8768-1020
If the initial screening results are suspected to be positive, the parents will receive a re-screening notice. The hospital that helped collect the baby's blood or made diagnosis will assist the newborn and the family to receive further examination in the shortest time.
若有任何疑問,請不吝與我們聯絡
電話:(04) 22052121 分機 12128、12132、12135
HE-50055-E

中國醫藥大學附設醫院暨體系院所

}