Principles for Mixing Formula with Water 配方奶沖泡原則

Principles for Mixing Formula with Water 配方奶沖泡原則
2023/3/21
In order to provide safe and hygienic care for babies, the following items should be noted before preparing formula milk
Wash hands before mixing.
Prepare materials: formula, sterilized baby bottle, warm boiled water (about 70 ℃), feeding cup or spoon or dropper.
Mixing sequence: first pour warm boiled water into the baby bottle to the standard scale, and then add milk powder (level spoons), and it is normal that the level of the finished one will be higher than the predetermined number.
| | |
| --- | --- |
| Concentration: Since different brand comes with varying sizes of spoons, please refer to the ratio description on the can in detail before mixing to avoid the milk being too thick or too thin. | |
| Temperature: The water temperature for mixing formula milk should be at 70℃. The mother needs to cool down the milk after mixing it, with the milk dropped on the inside of the wrist not feeling hot as a general rule. | |
| Shake well: Shake well milk powder clockwise or counterclockwise to reduce bubble production, or shake well before loosening the bottle lid and then tightening to reduce air accumulation. | |
The mixed formula can be placed at room temperature for 1 hour. If it needs to be reheated, it should be heated in the baby bottle in water but not in the microwave. It is advised to drink it up in 1 hour.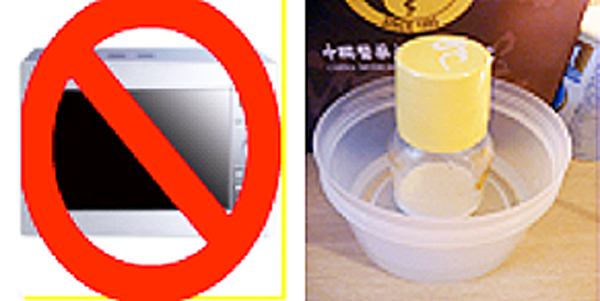 Powdered milk that has not been opened can be placed at room temperature. Once the can is opened, screw the lid down and store it in a dry and cool place. It should be used up within 3 to 4 weeks. Please refer to the instructions on the can for details.
Sterilization of baby bottles:
Plastic material (PA, PP, PES, PPSU): After boiling, put the washed baby bottle in, boil for 3 to 5 minutes, pick up the sterilized bottle, place it upside-down in a clean and ventilated place, and drain it.
Glass material: Put the washed glass nursing bottle into a stainless steel pot, add cold water into it to cover the bottle, put the lid on the pot and heat it for 10 to 15 minutes, then pick the sterilized bottle up and place it upside-down in a clean and ventilated place, and drain it.
Caution: The glass feeding bottle should be put in cold water to prevent it from breaking.

若有任何疑問,請不吝與我們聯絡
電話:(04) 22052121 分機 12128、12132、12135
HE-50073-E

中國醫藥大學附設醫院暨體系院所

}