Foot Problems in Children - In-toeing & Out-toeing 兒童足部問題-內八字與外八字

Foot Problems in Children - In-toeing & Out-toeing 兒童足部問題-內八字與外八字
2023/2/3
The common lower extremity problem in pediatric orthopedics is in-toeing and out-toeing caused by lower extremity torsion. It is one of the pendulum effects in the development of children's musculoskeletal system.
In-toeing
Children often stumble when they are walking and have an in-toeing gait. The causes of the gait can be divided into three categories:
Adductus and varus of the forefoot (metatarsus adductus and varus):
It is common in infants before 1 year old and mostly can go away naturally. Sometimes it can be corrected by the rehabilitation exercise of foot abduction: reverse-shoe wearing (toe forward) or plaster fixation.
Crus pronation (tibia pronation):
It is common in children aged 1-3. When lying prostrate, bend the knee, and the big toe can be found to be inward, which can recover slowly with the increase of age. At this time, children should avoid sleeping on their stomach and sitting on heels.
Excessive femoral anteversion (excessive anteversion of the caput femoris):
It is common in children over 3 years old, especially girls. Such children like to sit with their feet bent behind and spread their calves backward to form a W-shape, also known as TV feet. Children should avoid such a sitting posture and are encouraged to cross their legs and do cycling or roller skating.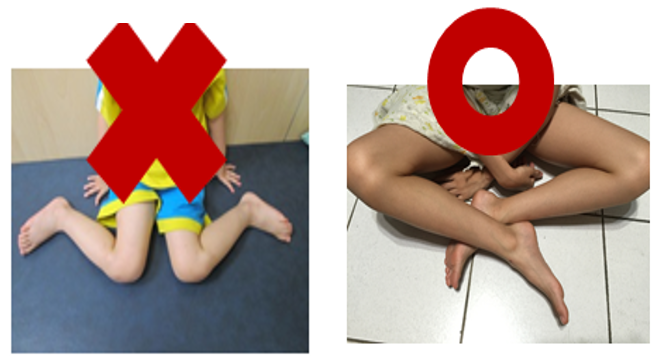 Out-toeing

It happens for exactly the opposite reason to in-toeing, but spreads across all age groups. Much of it can be improved by posture and exercise. And serious out-toeing cases generally all have pathological changes.

Recently, with the development of technology, gait analysis and plantar pressure measurement have been developed for children's common lower extremity problems. The causes can be detected early and proper treatment can be arranged. Parents don't have to worry too much. If they are over the right age and don't recover or have a serious deformity, see a pediatric orthopedic doctor for evaluation.

若有任何疑問,請不吝與我們聯絡
電話:(04) 22052121 分機 12128、12132、12135
HE-50090-E

中國醫藥大學附設醫院暨體系院所

}