Introduction
Superintendent Cho's papers have been cited in the 2022 American Heart Association's (AHA) Intracerebral Hemorrhage (ICH) guidelines, highlighting his expertise and outstanding contributions to the field of neurology. As a dedicated professional in the field, Superintendent Cho's research has had a significant impact on the treatment and management of ICH. In these papers, Dr. Cho compared the therapeutic effects of endoscopic surgery and traditional craniotomy for intracerebral hemorrhage and found that patients who underwent endoscopic surgery had better recovery outcomes. He also used the coma scale as a criterion for surgical judgment . Cho's papers are not only a critical reference for the AHA ICH guidelines but also a vital contribution to the ongoing development of the field. His work has helped to advance our understanding of ICH and improve patient outcomes, making him a recognized leader in the field of neurology.
"2022 Guideline for the Management of Patients With Spontaneous Intracerebral Hemorrhage: A Guideline From the American Heart Association/ American Stroke Association" Citing Prof. Der-Yang Cho, Superintendent of CMUH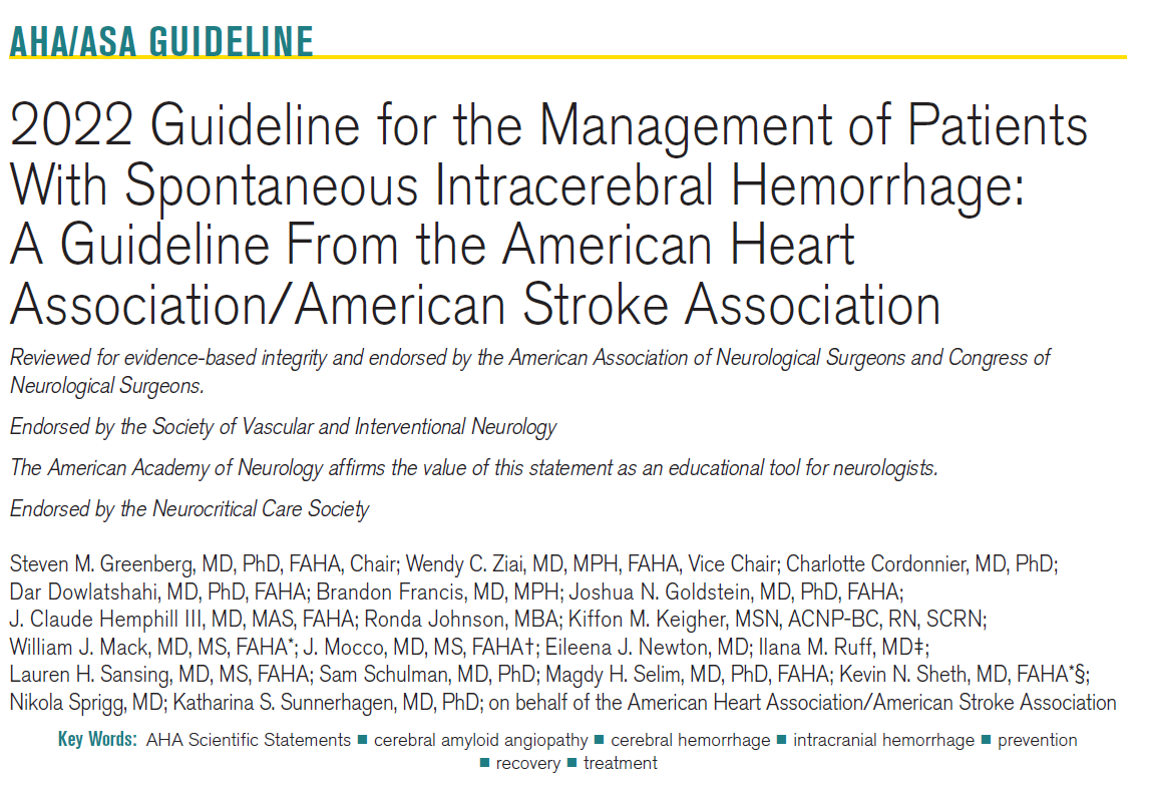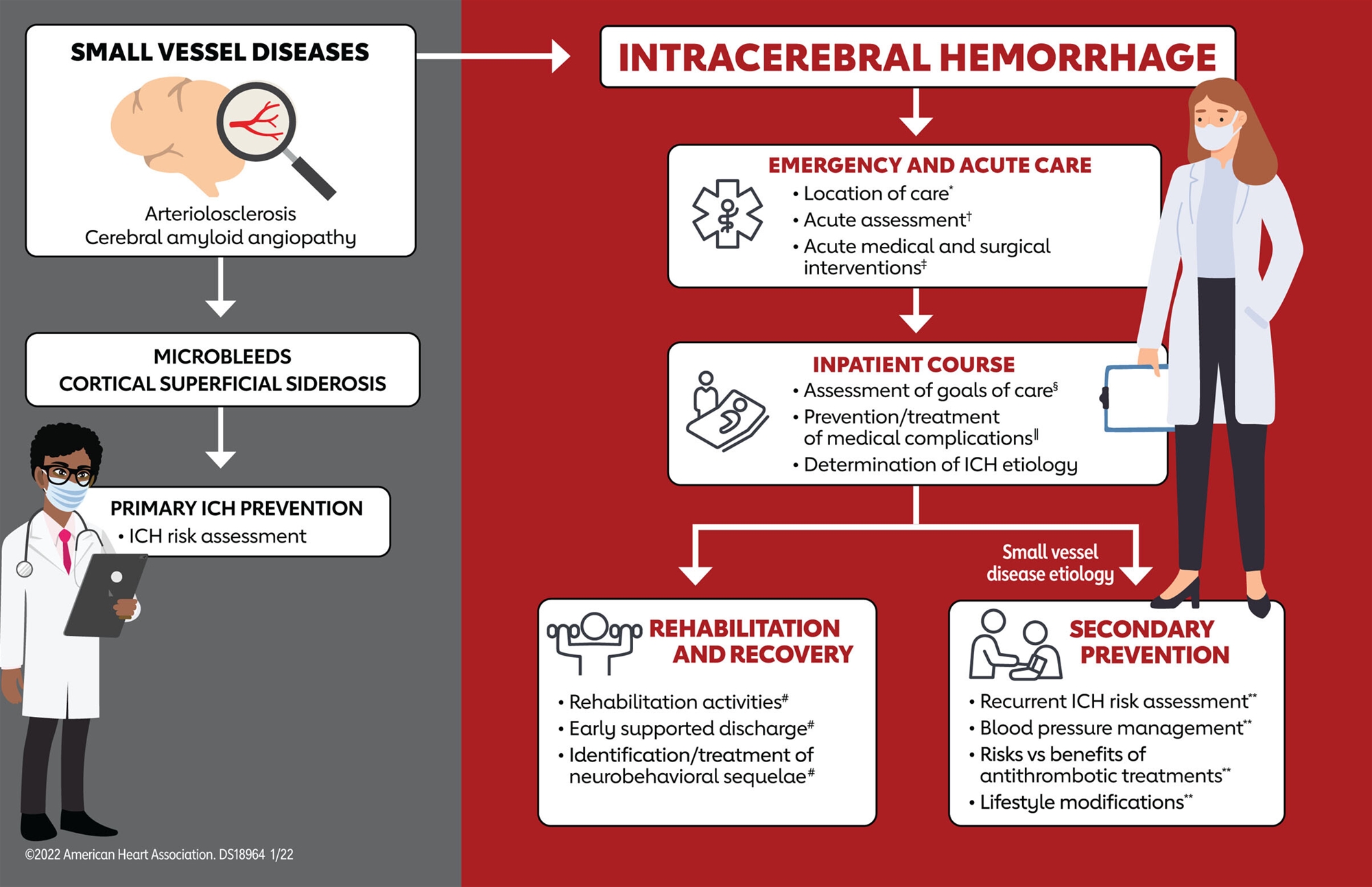 Figure 1. Guideline overview for primary ICH. ICH indicates intracerebral hemorrhage. Recommendations on the topics above can be found in the guideline in the sections indicated: *Sections 3 and 5. †Section 4. ‡Sections 5 and 6. §Section 7. ∥Section 5. #Section 8. **Section 9.
Recommendations for MIS Evacuation of ICH
Referenced studies that support recommendations are summarized in Data Supplements 55 and 56.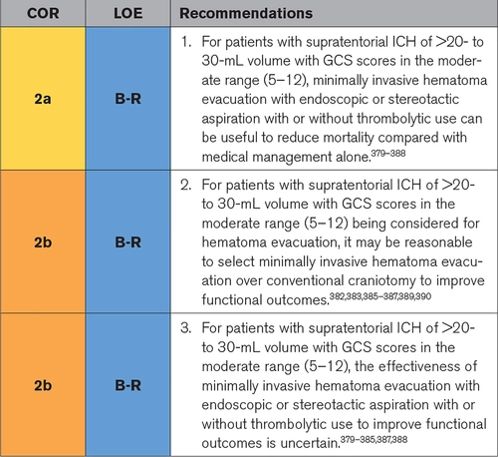 Synopsis
MIS for supratentorial ICH has the appeal of relieving hematoma volume, reducing perihematomal edema, and, compared with conventional craniotomy, minimizing disruption of healthy brain tissue. Therefore, enthusiasm for MIS techniques to treat moderate to large ICHs during the acute phase seems intuitive. However, results from large randomized clinical trials have not been definitive.379–388,391,392 The present guideline uses primarily data from the largest RCT of MIS (MISTIE III),381 meta-analyses of trials comparing MIS with conventional craniotomy and standard medical care,379,380,382–390,393–395 and smaller RCTs.391,392,396–412 The majority of clinical trials have used ICH volume thresholds of >20 or >30 mL as an inclusion criterion. As a primary recommendation, minimally invasive hematoma evacuation with endoscopic or stereotactic aspiration, with or without thrombolytic use, is safe and may be useful to reduce mortality. Although it may also improve functional outcomes, the LOE for this is lower. Compared with craniotomy, the mortality benefit of MIS is uncertain, although the literature supports that MIS may be considered to improve functional outcomes compared with conventional craniotomy. MIS interventions require surgeon and center skill and experience as the basis for these recommendations.
Recommendation-Specific Supportive Text
•Other RCTs and meta-analyses confirm no significant difference in safety end points (brain rebleeding after treatment and infection) for endoscopy and stereotactic aspiration/craniopuncture techniques compared with standard medical care or craniotomy.391,398,400,405,406,408,411–413
Recommendation-Specific Supportive Text
•Many small RCTs of MIS show a functional outcome benefit from MIS compared with standard medical care at follow-up times of 3 months to 1 year.391,392,396–399,401,403,408,412,413
Recommendations for MIS Evacuation of IVH
Referenced studies that support recommendations are summarized in Data Supplements 57 through 62.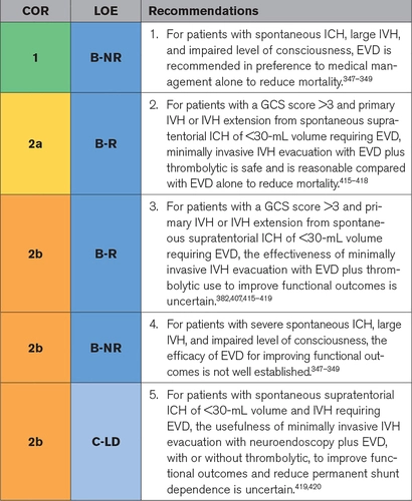 Recommendation-Specific Supportive Text
•Endoscopic surgery for hypertensive IVH combined with EVD with or without IVT has been studied in small RCTs and observational studies.419,420,427,428 Small RCTs have reported no significant difference in mortality rate, and 2 of them reported improved short-term functional outcomes for the endoscopic group compared with the EVD group.427,428 One meta-analysis reported higher IVH evacuation rate, lower mortality, improved functional outcomes, and lower permanent shunt rate for endoscopic surgery plus EVD compared with EVD plus IVT.420 No conclusive evidence was provided comparing endoscopic surgery with EVD alone. A network meta-analysis reported improved survival and functional outcomes for endoscopic surgery compared with EVD plus alteplase or urokinase, all of which were superior to EVD alone.419 Lower rates of permanent shunting, intracranial rebleeding, or infection in the endoscopic surgery group suggest that this intervention seems safe, although no large high-quality RCTs directly comparing these interventions have been performed and risk of publication bias is high.
2022 AHA &AHA ICH Guideline references
391. Cho DY, Chen CC, Chang CS, Lee WY, Tso
M. Endoscopic surgery for spontaneous basal
ganglia hemorrhage: comparing endoscopic
surgery, stereotactic aspiration, and craniotomy in
noncomatose patients. Surg Neurol. 2006;
65:547-555. doi:10.1016/j.surneu.2005.09.032
397. Cho DY, Chen CC, Lee HC, Lee WY, Lin HL
Glasgow Coma Scale and hematoma volume as
criteria for treatment of putaminal and thalamic
intracerebral hemorrhage. Surg Neurol. 2008;
70:628-633. doi:10.1016/i.surneu.2007.08.006
427. Chen CC, Liu CL, Tung YN, Lee HC,
Chuang HC, Lin SZ, Cho DY. Endoscopic surgery
for intraventricular hemorrhage (IVH) caused by
thalamic hemorrhage: comparisons of endoscopic
surgery and external ventricular drainage (EVD)
surgery. World Neurosurg. 2011; 75:264-268.
doi:10.1016/j.wneu.2010.07.041