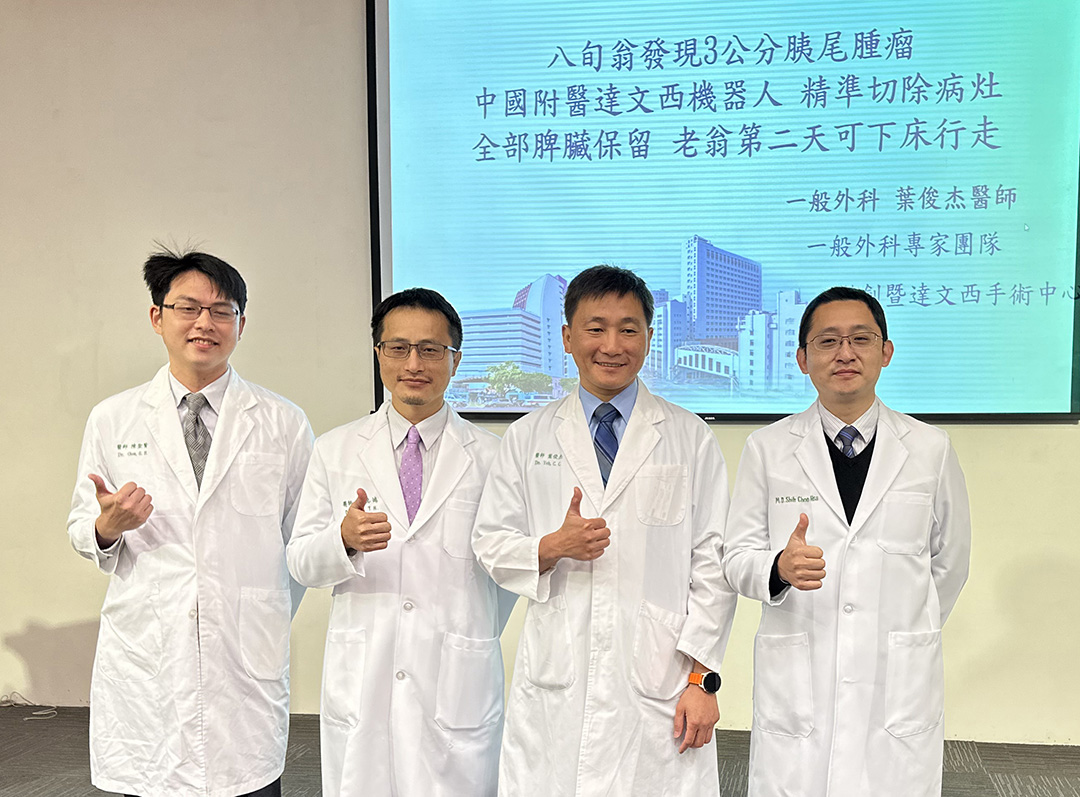 Mr. Lai, an 80-year-old man, sought medical attention for his prostate disease. Through continuous monitoring via computed tomography (CT), a tumor of about 3 centimeters in size was unexpectedly discovered in the tail of his pancreas. Dr. Chun-Chieh Yeh, general surgeon at China Medical University Hospital, evaluated Mr. Lai's pancreatic tail tumor, which was suspected to be a neuroendocrine tumor or metastatic cancer. Although he currently has no symptoms, the pancreatic tail tumor may worsen or metastasize, and therefore pancreatic tail resection (usually combined with splenectomy) should be performed as soon as possible.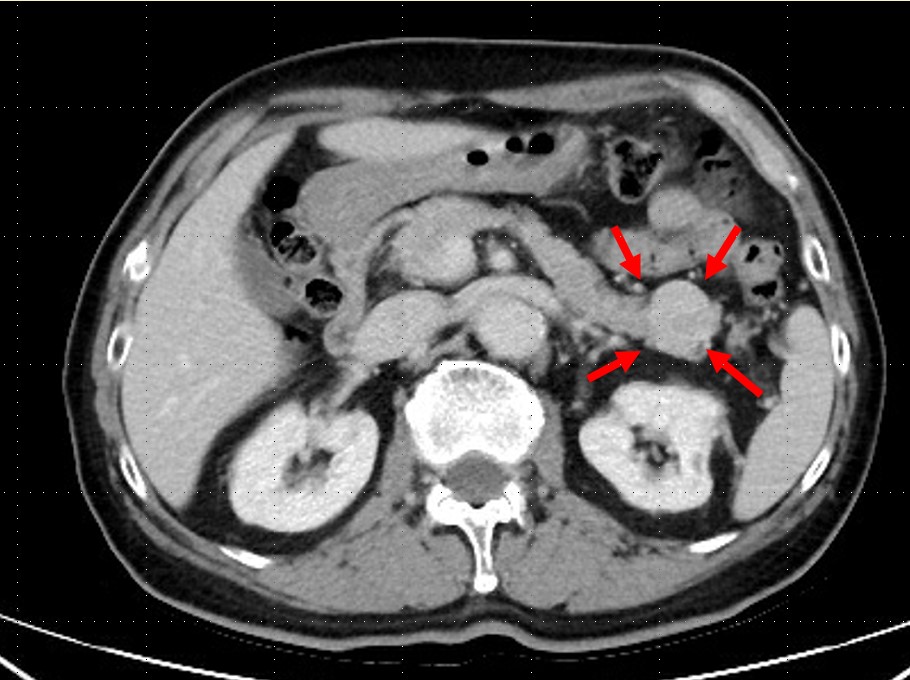 Considering Mr. Lai's advanced age, Dr. Yeh suggested preserving the entire spleen to maintain his immune system. Therefore, Dr. Yeh recommended that Mr. Lai undergo advanced minimally invasive surgery with the da Vinci robot - "Pancreatic tail resection combined with spleen preservation surgery": first, five incisions, only 1 cm in size like keyholes, were made in the abdomen. The pancreatic tail tumor was accurately removed, and the blood loss was significantly reduced. During the surgery, the blood circulation of the artery and vein supplying the spleen was preserved, and the vascular perforation caused during the surgery was finely sutured to achieve effective hemostasis. Since the blood supply to the spleen was fully preserved, the original immune function of the spleen was maintained, and the patient's daily activities were not affected. Mr. Lai was able to get out of bed and walk on the second day after the operation, and his prognosis is good. He expressed gratitude to the doctors and happiness in having more confidence to live to a ripe old age.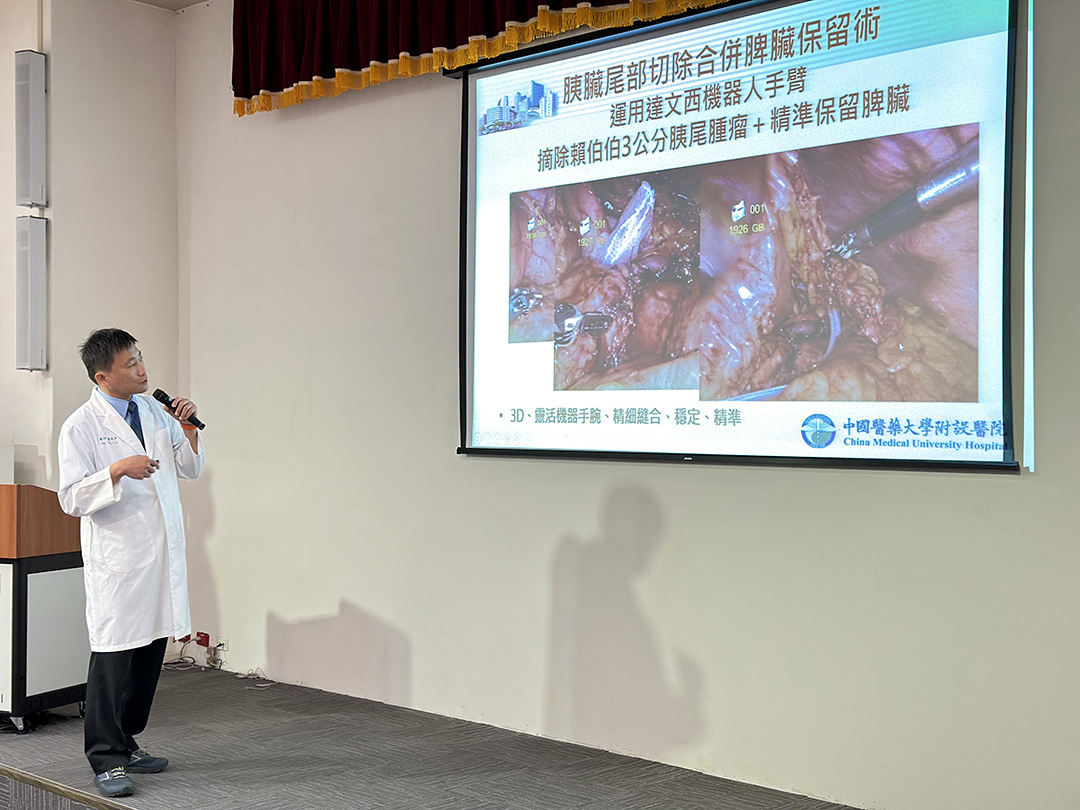 Unlike other organs, the pancreas is positioned rather inconspicuously, and it is one of the few organs in the human body that has both endocrine and exocrine functions. Its main role is to regulate blood sugar and aid in the digestion of carbohydrates, proteins, and lipids. The pancreas is divided into three parts: the head, body, and tail. The head is connected to the duodenum, while the body and tail float freely in the posterior abdominal cavity.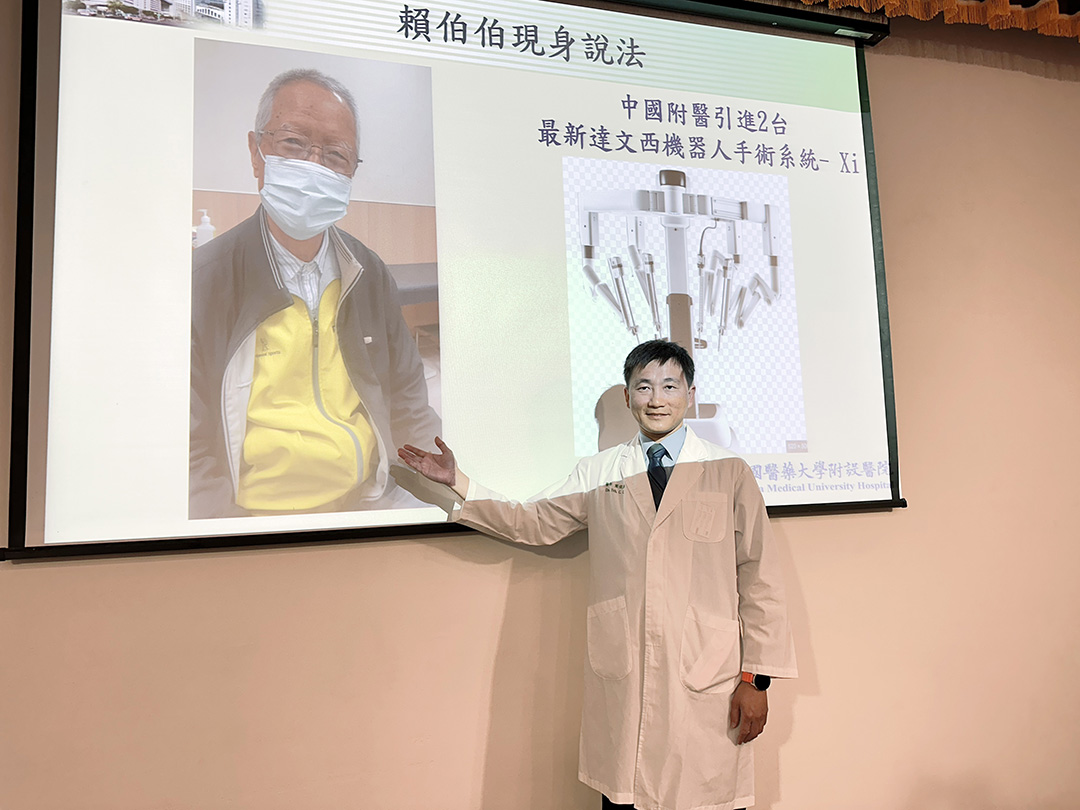 According to Dr. Chun-Chieh Yeh, patients with early-stage pancreatic diseases often have no symptoms. However, if the tumor gradually grows, various symptoms such as general weakness, weight loss, loss of appetite, abdominal pain, and jaundice may emerge. Dr. Yeh further analyzed that there are many types of pancreatic tumors, and in addition to the most deadly pancreatic cancer, neuroendocrine tumors are also a common type of pancreatic tumor. About 60% of cases belong to non-functional tumors with unclear initial symptoms, and patients often seek medical attention only when they experience abdominal pain or feel a hard lump. If malignant pancreatic neuroendocrine tumors lead to multiple metastases, the risk of survival increases correspondingly.
Dr. Yeh emphasized that surgical resection is recommended if the size of the pancreatic neuroendocrine tumor exceeds 2 centimeters or if there is a risk of cancerous transformation upon biopsy. However, any pancreatic surgery is considered a difficult operation, and it is important to be cautious in closing the pancreatic duct to reduce the occurrence of severe postoperative pancreatic leaks, which may lead to life-threatening complications.
Pancreatic tumors are silent killers and pancreatic cancer is the king of cancers. No pancreatic tumors should be taken lightly, especially for those who have a family history of pancreatic cancer or pancreatitis, or for those who experience persistent upper back pain, weight loss, or sudden deterioration in blood sugar control without a clear reason. It is recommended to actively seek medical attention and undergo examinations to take control of one's health and avoid the continued deterioration of the condition.