Excellence
In addition to clinical services, the center is also devoted to academic research. In the past, articles published in international academic journals covered areas such as clinical nephrology, hemodialysis, peritoneal dialysis, acute kidney injuries and kidney transplantation.
The Kidney Medical Center is responsible for promoting the related services and research on treatment of renal diseases in the Taichung Central Hospital and its branches. The center, with its largest hemodialysis center and peritoneal dialysis center in middle Taiwan, provides 24-hour comprehensive emergency care for acute and chronic kidney diseases including outpatient services, emergency care, intensive care, hospitalization services, various renal replacement therapies (including hemodialysis, hemodiafiltration, sustained low-efficiency hemodialysis (SLEED-f), continuous renal replacement therapy (CRRT), plasmapheresis, low density lipoprotein isolation, blood lavage, peritoneal dialysis, and kidney transplantation), chronic kidney disease management and home-based hemodialysis training.
Home hemodialysis: The Kidney Medical Center is the only training center in Taiwan to improve the quality of life of patients and the survival rate is approximately the same as that of kidney transplants from strangers, and we continue to welcome kidney failure patients to participate in home hemodialysis.
Home hemodialysis is an advanced dialysis model currently promoted in advanced countries. The survival rate of Home hemodialysis is the same as that of kidney transplant, and Home hemodialysis can also greatly reduce the complications of cardiovascular disease. In our hospital, the kidney medical center set up a home hemodialysis training room to introduce foreign technologies and treatment principles as the first hospital to conduct trial treatment and offer relevant training. Patients are trained to use the nighttime sleep for hemodialysis over a long period of time. Currently, we provide two services of in-hospital hemodialysis and home hemodialysis. In the future under the approval of the health authorities, we can successfully become the country's home hemodialysis care and patient training center.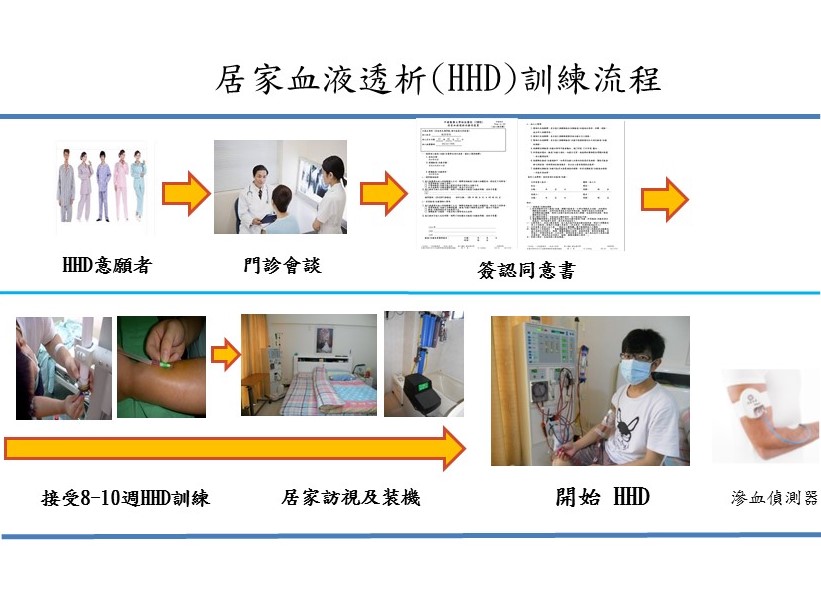 Under the close scrutiny of nephrologists and hemodialysis nurses, many patients have been trained to perform hemodialysis six to eight hours each time and three times a week according to personal schedules at home. After six months, the patient's blood pressure and biochemical values and hemoglobin have made great progress, and the myocardial hypertrophy also tends to be normal. The most significant advantages are the lowering depression index, reduced fatigue, increased exercise tolerance and improved quality of life. This is a hemodialysis treatment worth recognition. According to the foreign medical journals, the survival rate of patients using home hemodialysis is the same as the survival rate of the kidney transplant in Taiwan. Only about 250 people in Taiwan have the opportunity to receive kidney transplants each year due to the small number of donors. This can be a good alternative for young patients waiting for kidney transplants.
Kidney transplant
We provide complete preoperative assessment and postoperative care for kidney donors (family members or strangers) and we conduct lifelong kidney function tracking on family kidney donors. Our hospital currently has established successful cases with incompatibility in the ABO blood types, thus providing kidney failure patients with more opportunities for successful transplantation.
Sustained low-efficiency hemodialysis (SLEED-f)
The hospital is the first to offer treatment for acute kidney failure with SLEED-f in the medical intensive care unit. SLEDD-f stabilizes hemato-kinetics and rapidly corrects septic shock-related acidosis and electrolyte imbalance, and reduces bleeding due to overdose of anti-haemotoxins.
Since the introduction of SLEDD-f in May of 2009, the center has successfully treated 609 patients with critical illness.
Dialysis patients rehabilitation and exercise program
The center has developed in-bed exercise apparatus for hemodialysis patients on its own to allow kidney failure patients to do exercise in bed during the 4 hours of hemodialysis and dialysis.
The center also allows patients undergoing peritoneal dialysis to exercise during fluid exchange and improve their health and quality of life, which has been widely recognized by kidney failure patients.