Our Speciality
Holistic approach to Renal Care
Under the dialysis patient rehabilitation program, considering the fact that patients with chronic kidney failure may quit exercising and gradually lose physical strength owing to physical discomfort as they go through dialysis, in addition to providing dialysis, the center also hopes that rehabilitation via exercise and nutrition and education can be implemented to enhance patient's physical strength and immunity, allow the patient to regain physical and mental health, and help them resume their jobs and social life.
Our sports center has a team of specialists, nutritionists and professional sports therapists who can assist in providing professional full-time sports services.

The Clinical Nutrition Department of the hospital has dedicated nutritionists stationed in the kidney medical center to provide kidney failure patients and dialysis patients with more heartfelt nutrition education and a full range of nutritional support.
Kidney Health Education Center
In Taiwan, the prevalence of dialysis patients ranked first around the world in 2016. The huge annual cost of dialysis for end-stage renal disease (ESRD) patients has become a heavy burden on the finance of health insurance, and long-term dialysis treatment also affects the quality of life of patients.
Regular examination, early detection of kidney disease, seeking regular treatment, following the doctor's advice, and facing the realistic challenges with a positive attitude are the best ways to treat or relieve the deterioration of chronic kidney disease.
In collaboration with the Preventive Medicine Center of our hospital, the Kidney Health Center endeavors to promote a comprehensive preventive care for chronic kidney disease (CKD) so that the general public can understand the importance of kidney care and self-care in order to reduce the incidence of uremia and promote national health development.
Excellence in Treatment
Home hemodialysis:The Kidney Medical Center is the only training center in Taiwan to improve the quality of life of patients and the survival rate is approximately the same as that of kidney transplants from strangers, and we continue to welcome kidney failure patients to participate in home hemodialysis
Home hemodialysis is an advanced dialysis model currently promoted in advanced countries. The survival rate of Home hemodialysis is the same as that of kidney transplant, and Home hemodialysis can also greatly reduce the complications of cardiovascular disease. In our hospital, the kidney medical center set up a home hemodialysis training room to introduce foreign technologies and treatment principles as the first hospital to conduct trial treatment and offer relevant training. Patients are trained to use the nighttime sleep for hemodialysis over a long period of time. Currently, we provide two services of in-hospital hemodialysis and home hemodialysis. In the future under the approval of the health authorities, we can successfully become the country's home hemodialysis care and patient training center.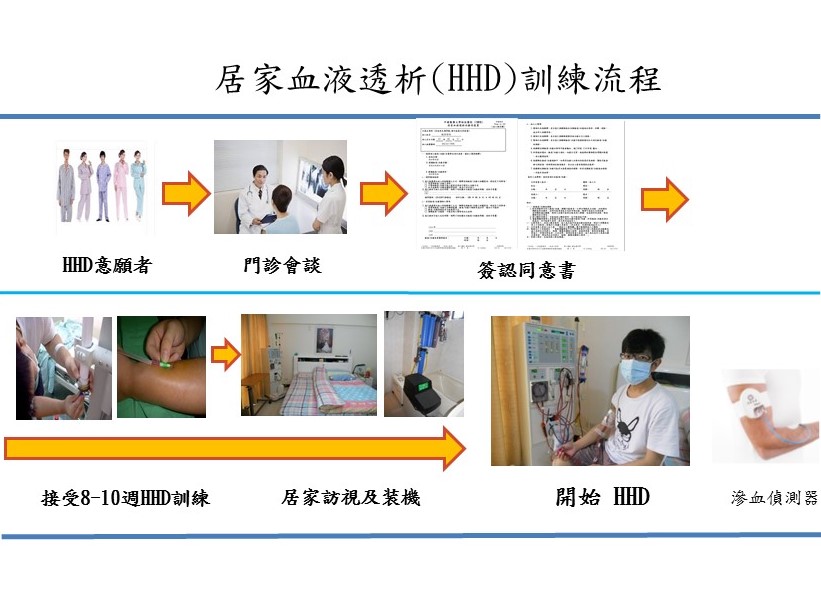 Under the close scrutiny of nephrologists and hemodialysis nurses, many patients have been trained to perform hemodialysis six to eight hours each time and three times a week according to personal schedules at home. After six months, the patient's blood pressure and biochemical values and hemoglobin have made great progress, and the myocardial hypertrophy also tends to be normal. The most significant advantages are the lowering depression index, reduced fatigue, increased exercise tolerance and improved quality of life. This is a hemodialysis treatment worth recognition. According to the foreign medical journals, the survival rate of patients using home hemodialysis is the same as the survival rate of the kidney transplant in Taiwan. Only about 250 people in Taiwan have the opportunity to receive kidney transplants each year due to the small number of donors. This can be a good alternative for young patients waiting for kidney transplants.
Blood purification
The Nephrology Medical team is on call for 24 hours and offers a wide range of services including emergency dialysis and hemodialysis (including CRRT, SLEEDf, hemofiltration, plasmapheresis, LDL isolation, and blood lavage).
There are a total of 133 beds in the Taichung Central Hospital of, and three dialysis services are offered from Monday to Saturday.
The Taichung Central Hospital is the largest hemodialysis center in Central Taiwan. At present, the number of hemodialysis patients is about 590. The number of patients using the CRRT each month is about 180, while the number of patients undergoing hemodialysis each month is about 8,200.
Peritoneal dialysis
Founded in July of 1986, and recognized as the Peritoneal Dialysis Nursing Staff Training Hospital in April of 1996, the Peritoneal Dialysis Center of the Taichung Central Hospital is the largest peritoneal dialysis center in the Central Taiwan and has about 330 peritoneal dialysis patients at present. It has independent and exclusive health education classrooms and provides peritoneal dialysis consultation and training services for outpatients and kidney failure inpatients. Meanwhile, the 24-hour emergency medical consultation and home care guidance are also provided by professionals.
Kidney transplant
The hospital is a kidney transplant pioneer in Central Taiwan. In 1993, the hospital successfully completed the first kidney transplant from family members in Central Taiwan. According to the Central Public Health Bureau, the 5-year survival rates of kidney transplant givers and receivers between 1997 and 2007 were 94% and 91% respectively, which were among the highest in Taiwan. The kidneys from family members are taken via laparoscopy, and the small wound can heal fast so that the kidney donor can be discharged from hospital in a week after surgery. The hospital gives lifelong renal function tracking on family kidney donors, and there are several successful cases with incompatibility in the ABO blood types, thus providing kidney failure patients with more opportunities for successful transplantation.
Excellence in Diagnosis
The state-of-the-art colorful Doppler kidney ultrasound device performs more than 8,000 renal ultrasound sessions each year. In addition, the hospital is equipped with the 16-cut/64-cut computerized tomography equipment, magnetic resonance imaging equipment, vascular photography equipment, cystoscopy and so on to provide accurate diagnosis based on renal and urological imaging.
Combined with general optical microscopy, immunofluorescence staining and electron microscopy, kidney biopsy can accurately diagnose a variety of kidney diseases such as glomerular inflammation, vasculitis, renal tubule and renal interstitial disease. And nearly 100 cases of kidney biopsy are conducted each year.
Excellence in Data Management
The center has a complete database to collect clinical data about chronic renal disease, acute kidney injury, hemodialysis, peritoneal dialysis, kidney transplantation and home hemodialysis, which can be used as basis for future medical research and analysis to improve the quality of medical services.